The Only Halloween Nail Inspo You Need Is Here, Courtesy Of Kendall Jenner
Dimitrios Kambouris/Getty Images Entertainment/Getty Images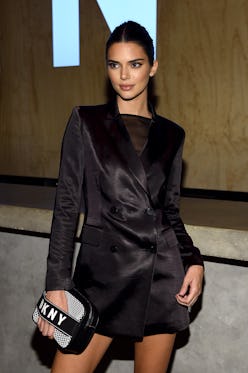 If you haven't already, soon enough you're going to have a whole lot of Halloween inspiration — costume, beauty, decor, and otherwise — coming your way. And whether you're a self-described spooky season aficionado or someone who just plays along to get through to the other side of All Hallows' Eve, one thing's for sure: You're going to need a stylish manicure well-suited for the season. Luckily, an ultra-chic dose of inspiration just struck in the form of Kendall Jenner's dark pedicure. Emulate the supermodel's look for a moody mani-pedi that's fit for getting festive on Halloween and remains just as bewitching once the holiday has passed.
When Kendall Jenner stepped out in Beverly Hills on Sept. 25, you wouldn't know from looking at her that it's technically fall. That is, until you spot her super-dark, almost black pedicure that's fully on show thanks to her brown suede Birkenstocks (an au courant footwear choice, according to Jenner). Though the sandals, plus her cutoff denim shorts, breezy unbuttoned blouse, and form-fitting white tank still read summer — as does the weather report in Los Angeles — Jenner's brooding dark pedicure proves she's officially in an autumnal state of mind.
But her rich pedicure isn't just fall-ready; the nearly black hue is also perfectly timed to inspire your Halloween nail polish game. It's a nocturnal shade that conjures up images of the dead of night, without actually being a very overdone coal-black color. The effect is a modern, not to mention much more stylish, take on an eerily festive mani-pedi. And it's right on track with the rest of the dark, edgy looks you'll consider rocking for your costume, too.
Try the look by selecting a polish that could appear black at first glance, but is actually an ultra-deep purple shade (think moody amethysts or rich aubergines) or a twilight-inspired navy blue hue. You could even achieve the same vibe with a rich sanguine shade that only reveals its red undertones in certain light. Make like Jenner and apply the moody color to your toes, and keep the look going by using the same shade for your manicure. The good news? Even after Halloween, the polish shifts from spooky to chic.
If you, like Jenner, find yourself in a warmer climate and unable to fully commit to a fall wardrobe — or if you're simply ready to embrace the Halloween season — shop similar dark and daring polish shades to get into the spirit, below.
Shop The Look