Katie Holmes' Jeans Are From The Brand She Can't Get Enough Of Lately
Roy Rochlin/Getty Images Entertainment/Getty Images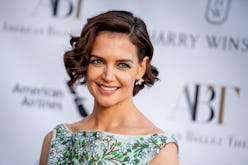 A little bit of rain in Manhattan never cramped Katie Holmes' style. The actor kicked her week off with an effortlessly cool '70s look courtesy of cropped bellbottoms from one of her favorite designers. Luckily, Katie Holmes' flared jeans are in stock and ready to be introduced to your wardrobe.
If there's one designer the 40-year-old trendsetter wears almost every single day, it's Ulla Johnson. Holmes' spring style has pretty much been sponsored — albeit unofficially — by the bohemian-chic brand behind nearly every flowy skirt, floral jumpsuit, and peasant blouse she's sported over the past month.
It seems as though she might have gone on a late-night online shopping rampage (the kind we're all occasional victims of), filling her cart with everything on Ulla Johnson's site, especially because the outfit she sported on June 10 — floral top, acid-wash denim skirt, and knee-high mahogany boots — was almost the exact same ensemble as the model is wearing online.
In any case, she debuted yet another piece from the label on Mon. This time, it was a pair of cropped and flared, high-waisted jeans à la the '70s. Holmes paired her groovy bellbottoms with a slouchy pink button-down blouse embroidered with subtle polka dots and black, buckle-strap box heels.
You could also see a dainty flower pendant hanging around her neck under the unbuttoned collar of her shirt, also adhering to the retro theme. From the burned-out sunny hues, corduroy jumpsuits, and flared sleeves featured in Ulla Johnson's styles, it's clear to see where the designer's inspiration hails from. And she's not the only one.
The whole '70s aesthetic is so in right now, as you can see by the resurgence of Brigitte Bardot's curtain bangs, hyper-flared silhouettes, and old-school prints. Holmes' latest bellbottoms moment is a subtle example of how to introduce the bygone decade into your wardrobe. Lucky for you, they're still in stock.
The actor's pants and similar alternatives, ahead.
Shop The Look