The Anti-Skinny Jeans Trend That's Taking Over Spring's New Arrivals
Agolde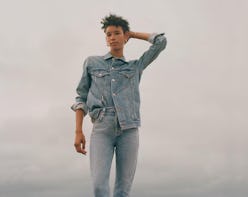 Unless you have a specific dress code to maintain that requires you to wear something more formal, there is never a time when denim is not a good option. As a regular part of your everyday wardrobe, your denim has a way of making up a good portion of the pieces that will never fail you, sartorially speaking. Of course, with the list of new denim styles only getting longer, it continues to get harder to keep up with the latest trends. However, a number of different brands and retailers have recently dropped new arrivals featuring spring denim trends that are clearly going to be everywhere in 2019, making it easier to zero in on the ones you need to know.
Among the latest denim styles for spring, which include new iterations of classic skinny jeans and straight-leg fits, you'll find that many of the trends call back to major denim moments from past decades. The wide-leg jeans of the '70s and the signature bleached denim of the '80s are a handful of examples that are proving that some of the most iconic decades in fashion are having a major moment in 2019.
So, what exactly are the biggest denim trends for this spring? Scroll down to see the ones that are taking over. Without a doubt, you'll be seeing these styles everywhere.
Wide Leg
Though wide-leg jeans have made a triumphant return to the surface in the past few seasons, this bohemian-inspired silhouette has become better than ever, to the point of shifting over to a lifestyle rather than a trend. If you've never been a fan of skinny jeans, you'll love this style.
Bootcut
In case you thought bootcut jeans were a thing of the past, the classic '90s style has returned, more notably in deep indigo washes for an ultra-sleek appearance you can wear during the day as well as your nights out.
Light Wash
Regardless of where you stand with light wash denim, spring is the peak time to break out your lighter jeans and pair them with your favorite pastel hues and brighter colors. Plus, they've become a fashion-girl favorite, which means you're about to see them a lot more often.
Bleached Denim
In the same vein as the tie-dye trend fashion editors and influencers have been highly anticipating for spring, bleached denim has returned yet again as one of the biggest (and most polarizing) trends of the season. To keep your look more streamlined, opt for the styles that feature an all-over bleached look, rather than more statement-making spots.