Kate Middleton & Prince William Had The Sweetest Reaction To Baby Sussex's Arrival
Chris Jackson/Chris Jackson Collection/Getty Images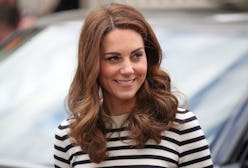 In case you missed it, Meghan Markle and Prince Harry officially welcomed a baby boy into their family on Mon., confirming the news with an Instagram post. As you'd expect, the well wishes continue to flood the comments section of the reveal — which has racked up over 2.7 million likes — but there's one response everyone has been waiting with bated breath to hear: Kate Middleton's, and her reaction to Markle's baby was as sweet as it was hilarious. Did you really anticipate anything else, though?
On Mon., Middleton and Prince William sent out a formal statement via Kensington Palace, shortly after Markle gave birth. "The Duke and Duchess of Cambridge are delighted with the news of the birth of The Duke and Duchess of Sussex's son today, and look forward to meeting the latest addition to the family," the release read.
But the real can't-miss reaction came on Tues., when the royal couple stepped in front of the camera to talk all-things baby Sussex with reporters — and their response to the happy news couldn't have been more perfect (fellow parents, you will definitely be able to relate).
"[We're] absolutely thrilled, absolutely thrilled, and looking forward to seeing him in the next few days when he's quietened down," William shared, before adding a bit of humor into the mix. "I'm very pleased to welcome my own brother to the sleep deprivation society that is parenting!"
Considering Markle has strayed from royal tradition countless times in the past, it should come as no surprise that she chose to forgo the usual post-birth photo call on Mon. — though a beaming Prince Harry did come out to speak with reporters shortly after the baby's arrival.
In the interview, Harry revealed the public may get the first glimpse of baby Sussex as early as Weds. — so be sure mark your calendars. As for a name? That's still something they're thinking on, though it's very likely it will also be disclosed when the couple poses with their newborn on the grounds of Windsor Castle later this week.