Kate Middleton Tried Out The Color Trend Kourtney Kardashian & Rihanna Are Obsessed With
Chris Jackson/Getty Images Entertainment/Getty Images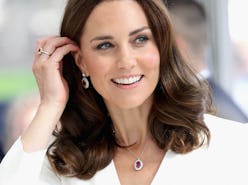 Bright, bold, and blindingly cool, slime green is officially here to stay for another season. Though the poppy neon hue has been around for quite some time, it arguably picked up traction (and an avid celebrity fanbase) early last year, with stars like Rihanna and Kourtney Kardashian, who are known for their out-of-the-box dressing approach, jumping on board early on. But, as it turns out, the daring shade can also look incredibly polished. Case in point: Kate Middleton's neon green dress, which is officially the most refined way to work 2019's biggest color trend into your wardrobe.
The Duchess of Cambridge is known for her vibrant, cheerful wardrobe — one that's chock-full of bright blues, vivid magentas, and soft purples. She's certainly no stranger to color, but on Feb. 5, she shocked the fashion-obsessed — in the best way possible, of course — when she stepped out for an event wearing a slime green dress. That's right, the color trend that might conjure up thoughts of, well, slime, is now officially royalty-approved.
Middleton's dress, which hails from Eponine London, is certainly daring, namely due to its color, but it's still elegant and sophisticated. The piece is designed with long sleeves (perfect for the chilly London temperatures), has two practical front pockets, and hits just above the knee, deeming it the perfect winter dress. The most noteworthy thing about it? How effortlessly it marries '60s charm with an of-the-moment color trend.
In typical Middleton fashion, she accessorized her poppy getup with more toned-down accessories, including black tights and a pair of super-trendy L.K. Bennett lace-up ankle boots. Middleton completed the look with her go-to heart-shaped diamond earrings for a touch of sparkle and a simple, black Mulberry clutch.
The duchess wore her hair down, with the ends curled ever-so-slightly for added volume. It appears as though she played off of the green theme when choosing her makeup, opting for a dark, verdant eyeshadow on her lids, keeping it neutral on her lips and cheeks.
The history of slime green is an interesting one that can be traced back to the 19th century. It wasn't until last Fashion Month, however, that it arguably hit its stride. At that time, celebrities known for their eclectic style (namely Rihanna, Kendall Jenner, and Priyanka Chopra) quickly worked the bright hue into their outfits.
But, certain trends, even the bolder ones, have a way of finding their way into just about everyone's wardrobe — to some degree, that is — with Middleton's neon green dress being the latest example. Ready to try out the eye-catching shade? Ahead, shop The Zoe Report's favorite slime-colored pieces, all of which are sure to earn the duchess' stamp of approval.
Shop The Trend