5 Dresses Every Woman Should Own By Their 30s, According To Kate Middleton
Tim P. Whitby/Getty Images Entertainment/Getty Images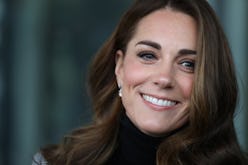 Contrary to popular opinion, dressing for your age doesn't have to mean compromising on style. Perhaps the best example of a wardrobe that effortlessly meshes trend-forward and age-appropriate is that of your favorite royal. Kate Middleton's dress styles epitomize the frocks that should be hanging in your closet by the time you turn 30.
In the wintertime, the duchess is known for sporting coat dresses nonstop, while warmer temperatures often call for pulling out her favorite pastels. The 36-year-old loves a structured, belted silhouette and is partial to a bit of lace, too. Whether she's dressed up for a lavish state banquet at Buckingham Palace or just making her rounds to the many charities she and Prince William support, her outfits are always impeccably on-point.
And dresses are her secret weapon. The royal keeps several styles of sophisticated frocks in rotation — with an abundance of variations for each, of course. These five Middleton-inspired dress styles have you covered for a day at the office, an evening out, and every occasion in-between.
Coat Dress
Dressing for frigid temps is no easy feat. Bulky knits can leave you feeling frumpy, but most dresses are simply too cold. Middleton has combined the best of both worlds into her go-to winter staple: the coat that doubles as a dress. Once you discover just how warm a coat dress can be (especially when worn with a pair royal-inspired tights), you might never find a need for pants again.
Belted Dress
The classic A-line silhouette is hands-down Middleton's favorite fit. To help her achieve her signature tailored look, the duchess often opts for frocks that are belted at the waist. Take the trend-forward maxi that she wore to the opening of London's V&A Photography Centre in Oct., for instance. In fact, just about every coat dress, midi, and evening gown the royal wears features a belted waist.
Lace Dress
One recurring design element of Middleton's looks is lace. This feminine detail is the duchess' go-to for more formal events. She's worn lacy gowns to the the Royal Ascot, the Royal Variety Performance, and more. At the 2017 Portrait Gala, she couldn't pass up the opportunity to wear head-to-toe lace in her favorite green hue.
Pastel Dress
If one thing is for certain, it's that the Duchess of Cambridge loves color. She has sported every shade in Pantone's catalogue, it seems, but her favorites are soft pastel hues. From the sage coat dress she wore to the RAF Centenary Service in July to the pale pink Emilia Wickstead number she's recycled time and again, it's no secret that Middleton is partial to a pastel.
Evening Dress
Some of the duchess' most stunning looks have been in sleek evening gowns. It isn't all that often that Middleton has an excuse to sport a floor-length dress, so when she does, she chooses her looks wisely. Her evening dress style is modest, adhering to royal protocol, often with long sleeves or off-the-shoulder cuts and always with a cinched waist and flowy skirt.