These Dresses Just Won The BAFTAs Red Carpet
Pascal Le Segretain/Getty Images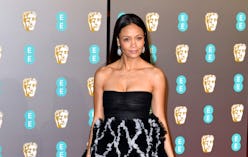 Sun. was an awards show fanatic's dream, offering not just one but two big ceremonies to tune into. Before the Grammy's red carpet was even rolled out, the British version of the Oscars were already underway. You wouldn't want to miss any of the outfits just because you were bouncing between the two, either, so here are all the best dresses from the 2019 BAFTAs.
London got its annual taste of Hollywood as the British Academy of Film and Television Arts Awards took over the iconic Royal Albert Hall for a day. Now that the Golden Globes and Screen Actors Guild Awards have offered a glimpse of this year's red carpet trends, you knew exactly what to look for during Sun.'s ceremony. It's safe to say those celebs you had your eye on didn't disappoint.
Lucy Boynton, for instance, is fresh on the awards show scene and has been included in just about every best dressed list thus far, so it's no surprise that her BAFTA look followed suit. That goes for serial nominee Amy Adams, too.
But before you decide on your favorite outfit of the night, make sure you didn't miss out on any of The Zoe Report's favorite 2019 BAFTAs dresses, ahead.