Kate Middleton Wore A Subtle Tribute To Princess Diana At The BAFTAs
Jane Barlow - Pool/Getty Images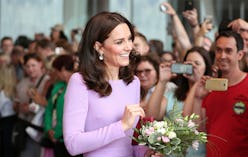 Kate Middleton was probably going to be named the best dressed at the BAFTAs no matter what she wore — face it: you can't compete with royalty — but she certainly earned her spot this time. The duchess looked downright angelic in an all-white gown, and just when you thought it couldn't get any better, the look had a sentimental meaning behind it, too. The earrings Kate Middleton wore to the BAFTAs payed tribute to her late mother-in-law in the sweetest, subtlest way.
The best was saved for last on Sun., when Kate Middleton waltzed along the red carpet in a whimsical white dress moments before the pre-show wrapped up. Everyone was anticipating the arrival of the royal couple, who make an appearance at the BAFTAs every year. Middleton might have just topped every look so far, too, setting the bar high for herself in a dreamy one-shoulder dress by Alexander McQueen (who was, of course, her wedding dress designer).
A bold choice for the duchess, the flowy number incorporated romantic details like silk flowers on the shoulder and a subtle ruffle along the hem. Middleton pulled out all the stops for the look, setting it off with a couple things she reserves for special occasions: a refined updo and jewelry from the royal vault.
The ever-elegant duchess accessorized her BAFTAs dress with diamonds that once hung from Princess Diana's ears. Longtime fans of the royal family recognized the heirloom jewels immediately. These dazzling pearl-drop earrings were among the late princess' favorites.
They're made of South Sea Pearls and the legendary royal wore them on multiple occasions, including to a concert also at the Royal Albert Hall in 1991. A year before that, Princess Diana also wore the earrings to a banquet for the Emperor of Japan, Akihito.
The duchess has historically been known to wear Princess Diana's jewelry every now and again. In addition to the stunning sapphire that adorns her wedding ring finger for eternity, there's also the Lover's Knot tiara that Middleton occasionally wears and a pearl bracelet that was designed for the late princess in the '80s, among other pretty pieces.
Middleton and Prince William — who is actually the president of the British Academy Film Awards, hence their annual RSVP to the BAFTAs — didn't pause long enough for viewers to get a good look at her vintage jewels or her dazzling Jimmy Choos. But thankfully, those red-carpet photographers captured the moment for you.