Kate Middleton Is Obsessed With This Chanel Purse (& It's Easy To See Why)
WPA Pool/Getty Images Entertainment/Getty Images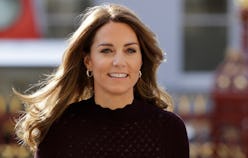 Everyone has their closet favorites, plain and simple. And regardless of all the fresh, new (and tempting) styles that appear on the racks season after season, certain pieces simply can't be replaced. For Kate Middleton, it's a burgundy Chanel bag she's had a tight grip on for over two years that she isn't going to be parting ways with anytime soon — and when a bag is that versatile, timeless, and cute, there really isn't any reason to, either.
On Oct. 9, Middleton visited the Natural History Museum — an organization of which she is a patron — to learn about how the "Angela Marmont Centre for UK Biodiversity is championing and helping to protect UK wildlife," according to an official tweet from Kensington Palace.
For the brisk, 60-degree day, Middleton opted for an easy-to-copy outfit that was the epitome of fall style. Everything from the color palette — a rich burgundy teamed with khaki green — to the staples themselves was quintessentially autumn in the best way possible.
Middleton's sweater hails from Warehouse. It features a lace-effect design, ribbed trims, and button detailing, all of which give it a vintage-inspired feel. Her olive-green culottes from Jigsaw — one of the brands Meghan Markle partnered with her workwear capsule collection — boast a relaxed-fitting, streamlined silhouette, deeming them the ultimate transitional piece.
While these two staples are noteworthy facets of Middleton's latest getup, her accessories of choice deserve double mention. In hand, the duchess carried a small burgundy Chanel flap bag (complete with an enamel handle) that she's actually been playing favorites with for years.
Middleton has reached for this exact Chanel bag for at least four different occasions since 2017. For a Mar. 2017 visit to Paris, the duchess brought the mini accessory along with her, she was spotted with it again while in Sweden in Jan. 2018, and the most recent bag sighting took place on Oct. 9, 2019.
Time has gone by, but the bag is still in pristine condition — perhaps because she stores it in a fabric bag when she's not using it — and it feels as au courant as ever, especially considering the rise of the ultra-cute mini purses. What's more, Middleton has effortlessly demonstrated the bag's versatility, too.
But the bag wasn't the only familiar thing about her Oct. 9 outing. Her maroon, fringe Tod's leather pumps are a mainstay in her wardrobe, as well. Better yet, every single time she's carried that burgundy Chanel bag, she's also worn those Tod's pumps. Clearly, this is the duchess' favorite shoe-and-bag combo — ever — and it's only matter of time until she steps out with it again. Stay tuned!