Meghan Markle & Kate Middleton Just Reunited & Dressed *So* Differently
Stephen Pond/Getty Images Entertainment/Getty Images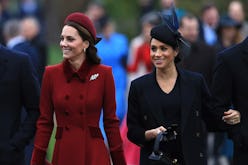 Seeing the entire royal family in one room together is about as rare and exciting for the fashion-obsessed as spotting an endangered species is for a nature documentarian. With both duchesses and the Queen in attendance, there was so much to see at Buckingham Palace on Tues. you wouldn't know where to look first. Let's start, of course, with Kate Middleton and Meghan Markle's style choices.
Nearly all the members of Great Britain's royal ménage gathered at the Queen's palace on Tues. to celebrate the 50th anniversary of the investiture of Prince Charles. It's been months since both duchesses have made a public appearance together — the last time being Christmas Day church service — and now they've reunited at long last.
Much like their joint outing over the holidays, Middleton and Markle's latest appearance was yet another prime example of just how different (yet respectfully enviable) their styles are.
Middleton went with a timeless mint-green fit-and-flare midi almost exactly like the one she wore a week before in Ireland, while Markle dressed her bump in a bolder metallic brocade mini (cut just above the knee, challenging royal protocol in true Markle style) and a sleek white coat — one of her absolute favorites, in fact — overtop.
It's no secret that Middleton loves a flowy A-line silhouette, so this whimsical pastel frock was right up the royal's alley. Believed to be a custom number by Alexander McQueen, who designed the duchess' bridal gown and BAFTAs dress, the piece was tea-length and buttoned all the way up to Middleton's neck. You know how seriously she takes the dress code, after all.
She paired it with classic white pointed-toe pumps and a bespoke matching clutch, also by McQueen. Markle, on the other hand, opted for something a bit riskier and trend-forward: a silver-and-gold floral mini with a tailored Amanda Wakeley coat that she's worn plenty of times before.
Markle has been known to bend royal protocol a bit since walking down the aisle in 2018. She's showed up to outings in sheer skirts, black nail polish, and lots of pants, against the long-withstanding tradition of wearing dresses.
With Middleton looking timelessly elegant and Markle in something a little more on the chic and trendy side, the duchesses' latest looks at Buckingham Palace are the ultimate representation of each of their individual styles, and nobody would prefer it any other way. Now, if only these two fashion icons got together more frequently.