Meghan Markle & Kate Middleton Dressed So Differently For Christmas
Stephen Pond/Getty Images Entertainment/Getty Images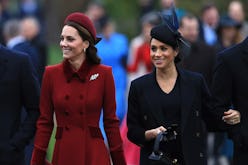 Meghan Markle just spent her first holiday as a duchess and her Christmas service ensemble did not disappoint. While Kate Middleton sported a festive burgundy coat dress (to no one's surprise), the newest member of the royal family dressed up her baby bump in monochromatic navy blue. Although it was quite a different look than what you're used to seeing Middleton dressed in, Meghan Markle's Christmas outfit was so typical of her everyday style.
On Tues., the royals attended Christmas Day service together at St. Mary Magdalene Church in Sandringham, Norfolk. It wasn't the first time Markle joined in on the annual tradition; last year, she tagged along as Prince Harry's fiancée. Wearing a tan wrap coat and chestnut hat, the duchess-to-be even did her first public curtsy when the Queen arrived. Now, one year later, she and Prince Harry are expecting the 92-year-old's next grandchild.
And Markle did not pass up the opportunity to show off that growing bump. She dressed for the occasion in a V-neck maternity midi dress and a long coat in the same hue, both by British designer Victoria Beckham. She, of course, accessorized with a matching, feather-clad fascinator and the most trend-forward black leather powder box. To top it off, the duchess traded in her usual pumps for sleek slouchy boots.
Markle's sister-in-law and fellow royal trendsetter Kate Middleton has traditionally worn more festive looks to Christmas Day service. In 2017, for instance, when Markle played it safe in beige, Middleton dressed in a holiday-ready red-and-green plaid coat dress and an eye-catching fur hat.
This year, she opted for a wine-colored coat dress that is thought to be custom-made by her favorite designer, Catherine Walker, who was once a favorite of Princess Diana's, too. Middleton accessorized her look with a halo-style Jane Taylor headband adorned with a black felt bow.
While the mom of three looked very Christmassy, the mom-to-be stuck with her usual dark, neutral palette and sophisticated silhouettes. This navy shade is proving to be the duchess' go-to hue. She wore a navy Stella McCartney dress and matching Gillian Anderson coat to the Invictus Games in Oct., and during her 16-day tour of New Zealand and Australia, Markle seemed to sport exclusively dark blue: a sleeveless midi by Aussie designer Dion Lee, a ruffled Antonio Berardi frock, and more.
Her most recent look is exactly what you might have expected for a classic Meghan Markle holiday outfit. Although subtle, the ensemble will certainly go down in history.