Kate Bosworth Wants Slap Bracelets To Make A Comeback
Dia Dipasupil/Getty Images Entertainment/Getty Images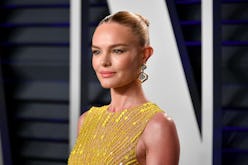 With summer out on the horizon, you've likely got your eyes on a carefree getaway filled with vibrant food, a salty breeze, and lush adventure in a newfound destination. Colombia, rich with culture, wildlife, and awe-inspiring views, is an excellent choice, and for more ways than one — just ask an A-lister. Yes, according to current It-girls, including Kate Bosworth, the country also inspired popular jewelry line Missoma's Momposina collection.
The brand captures the earthy, eye-catching vibrancy of the seaside nation. Inspired by Santa Cruz de Mompox, a colorful fishing town that's maintained its colonial character over the years, the brand's latest launch boasts bold shapes, vivid stones, and raw textures — all tied together by a signature sophistication and versatility the fashion set loves.
Everyone from Kaia Gerber to Meghan Markle have gotten behind the London-based brand, topping off their looks with a pop of edge via the affordable 18-carat gold lineup. We caught up with Kate Bosworth at the launch of the new collection, and talked jewelry trends for summer, '90s nostalgia, and the deeper meaning behind some of the actor's most beloved pieces.
"I'm an only child, so I get a lot of pieces from my mom. Her sweet sixteen ring is one that I hold very dear. It has diamonds and a sapphire, and she got it when she was 16, so it's sort of become a generational heirloom. My mom was fancy as a teen, apparently."
But aside from familial treasures that have stood the test of time, the Blue Crush star has a soft spot for the '90s. Describing her personal style as minimalist but experimental, Bosworth is here for the anklet revival, and particularly loves the Rhodochrosite choker from the vibrant new lineup. "Everything comes back around. I love a fine jewelry choker, and there's something about this that feels like little pieces of stained glass — like raw stones."
Swooning over the figure charm hoops inspired by the artistry and heritage of Colombia, Bosworth noted her inclination toward dainty pieces with entrancing stones and an industrial flair. But aside from one piercing on each ear, the 36-year-old admits she's kept body modification to the bare minimum. "I wanted a belly button piercing so bad when I was in middle school. I'm sure it was Britney Spears-inspired. My dad was like, 'Absolutely not.' The reaction made me fearful to even go there."
There's no denying that the jewelry industry is feeling nostalgic for trends of yesteryear. With everything from hearts to puka shells making a comeback, the world is ready to give staples of the early 2000s another go. When probed about whacky trends that deserve a revival, Bosworth reminisced on one relic any '90s kid knows well. "This is ridiculous, but remember slap bracelets? Those, and the threaded friendship bracelets are the things I grew up on, and I think nostalgia is huge. It's important to have that sentimental value, to remember a story you really feel you connect with."
Missoma has yet to tackle the updated slap bracelet, but never say never. In the meantime, shop their moonstone charm bracelet below, along with a few more styles The Zoe Report is eyeing from the new collection.