Kaia Gerber Just Nailed This Controversial Summer Trend
Pascal Le Segretain/Getty Images Entertainment/Getty Images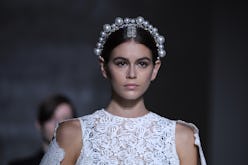 When it comes to buzzed-about new trends, you either love them or want them gone all together, and fast. In the case of Kaia Gerber's white bucket hat, fashion lovers are decidedly split. But, leave it to a burgeoning supermodel to make a tricky piece look super wearable — and fashionable at that. Plus, the low-maintenance trend can have a major impact on your summer outfits, so you might just want to buy one before they become harder and harder to get your hands on.
For years, the fashion world kept bucket hats tightly locked away in the throwback category. The obscure accessory was a fave in the '90s and early 2000s among the celeb and it-girl set, and made for the perfect beach- and poolside companion. And just like other trends from the whimsy decade, bucket hats have risen in popularity yet again thanks to legions of influencers who have popped up on the scene, Gerber included.
The model most recently wore a cream version of the popular hat while out shopping with friends in Malibu, Calif. on June 17. The 17-year-old looked the epitome of a '90s supermodel (perhaps taking a cue from her mother, Cindy Crawford) wearing a simple white cropped tank, navy blue cardigan, black high-rise cropped jeans, and high-top Converse. When it came to her accessories, Gerber chose to add another vintage piece to her look by tucking a black leather shoulder bag under her arm.
Gerber has been one of the bucket hat's most avid supporters as of late. Need proof? She wore a lime green Prada version to Coachella this year, and they've been a staple in her wardrobe ever since. Gerber went for a more chilled out look at the festival, opting for blue high-waisted mom jeans, a black tube top, and white sneakers.
Just months later, Gerber's Prada hat made yet another appearance while she was out in New York City in June. This time, she went for a slightly more dressed-up look, choosing to team it with an oversized tweed blazer, a pair of blue kick-flare jeans, and a pair of black Jimmy Choo combat boots. She kept the look playful by wearing a tight white crop top underneath. Leave it to the supermodel to play with summer dress codes.
Gerber isn't the only one repping the trend this year. Both Gigi and Bella Hadid have been loving the trend as of late. The elder Hadid sister wore a fuzzy cold-weather leopard option back in March. Her little sister, however, prefers denim versions. In both cases, the Hadid siblings styled their hats with other skate-team essentials: oversized hoodies, cargo pants, and clunky sneakers. The reemergence of '90s trends isn't anything new. After all, slip dresses and kitten heels have been dominating the market for years now. But, bucket hats signify fashion's turn towards more comfortable and casual looks this season, and it looks like Gerber and her squad are leading the charge.
Stick to a neutral color like black or white to make less of a statement. Don't think that the look is limited to trendy brands, either. Luxury brands like Prada, Burberry have all been putting out versions with logos and brighter colors. Even Chanel put out a completely clear PVC version with the brand's signature Cs emblazoned on the front. Now, you can decide if you want to be discreet behind oversized sunnies and a floppy-brimmed version, or look straight out of Clueless with a printed version. Ahead, The Zoe Report rounded up the best options on the market for you to shop
Shop the Look: