Kaia Gerber Found The Easy Outfit Formula You'll Want To Copy From Summer 'Til Fall
Slaven Vlasic/Getty Images Entertainment/Getty Images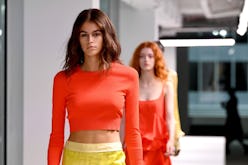 Nobody's ever made a granny sweater look as cool as Kaia Gerber has this spring. Knit button-ups and Converse have seemed to replace her combat boots and leather jackets entirely. During her latest outing, Kaia Gerber paired a cardigan with a slip skirt and you'll want to copy her immediately.
This model has acquired a hefty collection of Brandy Melville cardis — a nice change from her usual designer attire — and to say she's been wearing them constantly would definitely not be an exaggeration. We're only one week into June and already, Gerber has worn them four times.
First, she paired a black version, unbuttoned at the top and bottom, with a pair of denim shorts, an oversized beige blazer, and Converse high tops. Then, she incorporated an argyle-print variety into her usual utilitarian look: black denim and chunky combat boots.
Recently, she can't get enough of Brandy Melville's navy-blue Shannon sweater, a lightweight V-neck version with eyelet holes, which she first wore on Tues. with cropped cargo pants and sneakers, and more recently paired with a silky slip skirt.
On Thurs., the YSL Beauté ambassador went out in NoHo wearing her trusty blue cardigan over a floral-print midi skirt and black Converse high tops.
Now, you might think a cardigan and long floral skirt seems like the classic schoolteacher look, but this runway regular made it look effortlessly cool. Just the way she styled the classic sweater was trendy, with rolled-up sleeves and the bottom two buttons left undone.
Sporting the romantic combo with Converse sneakers and bold futuristic sunglasses gave it an even edgier look. Thank you, Kaia Gerber, for serving up the ultimate summer outfit.
Feeling inspired by her cardigan-and-skirt street style look? A few combinations to help you recreate it (including that Brandy Melville sweater she's obsessed with), ahead.
Shop The Look