Here's Exactly What To Wear To Your Office's Holiday Party
@gavyntaylor On Instagram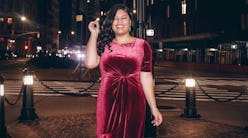 Office holiday parties are great. It's the one time of year when all employees celebrate and get to know each other on a more personal, laidback level. If you work in a corporate environment, the fête in question may be more of an elaborate affair. If it's a startup, then the festivities are likely to be on the casual side of the soiree spectrum. However it shakes out, one thing is universally important to remember: holiday office party dressing etiquette.
"Every business is different and therefore each holiday party's etiquette is likely to be different," L.E.R. Public Relations Founder Jane Lerman tells TZR. "No matter where you work, there should always be a level of professionalism in how you dress. You're likely to be spending time with your company's senior-level executives and possibly even clients. This is a golden opportunity to connect with your colleagues and clients on a personal level and show them just how much of an asset you are to the team."
So how does one accomplish said etiquette? Lerman's golden rule is to "keep the silhouettes conservative but have fun with colors, textures, and prints." In other words, skip the mini dresses and plunging necklines and opt for pieces that err on the conservative side. To make your look feel more fun, Lerman suggests "vibrant pops of color in festive hues like red and green...those are always a safe bet, as are lush textures such as velvet and silk."
Keeping this in mind, continue ahead for a few stylish holiday office party outfit ideas.
Holiday Party Must: Glitzy Accessories
Repurpose one of those pretty white dresses you snagged this summer by accessorizing it with party-ready favorites, like a headband, chainmail bag, and tall boots. All together, the look will feel balanced and situationally appropriate.
Holiday Party Must: Velvet Textures
Save for sequins and metallic, there's no other texture quite as festive as velvet. In particular, if you're heading to a company party where you might be interacting with everyone from human resources to interns, a slightly more conservative silhouette in a cheerful velvet texture is the best of both worlds.
Holiday Party Must: Disco Queen Details
If you're not one for feathery dresses or sequin-bedazzled skirts, just grab a fancy tweed blazer and team it with a pair of disco ball earrings. The combination gets the message across that you know you're at a holiday party but is also laidback and casual. If denim doesn't feel right for your company, swap out the jeans for a pair of your favorite trousers or a slip skirt.
Holiday Party Must: A Cheery Color Palette
When in doubt, a seasonal shade of red, green, or blue should do the trick. Try a bright red blouse pared down with crimson pants and a few white accessories to ground the look.
Holiday Party Must: A Subtle Show of Skin
A plunging neckline is probably best saved for holiday parties spent with friends. The alternative route to showing a sliver of skin is by way of an open-back dress. It feels slightly more celebratory and there's zero chance of any sort of wardrobe malfunction.
Holiday Party Must: Metallic Moment
This outfit is a good option if you're heading straight from your desk to drinks. Grab a metallic sweater and tuck it into a pair of gray trousers. Accessorize with a belt that has chunky gold hardware for a sleek finish. All that's left is a swipe of lipstick and your favorite heels.