3 Genius Outfit Formulas That Are Perfect For Your Office Holiday Party
Silvia Olsen/Shutterstock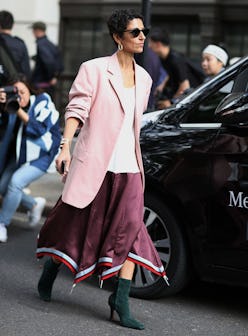 Holiday party season is officially here, and deciding on fitting looks to wear for each occasion isn't always easy. You want each ensemble to feel distinctive, festive, and — when deciding what outfit to wear to your work holiday party — appropriate. While dress codes for office functions are always tricky to navigate no matter what time of year it is, it's easier than ever to find an outfit that'll make you look stylish and polished, all while maintain an air of professionalism.
Instead of diving full-force into your usual workwear, know that a holiday party — even one that your boss invited you to — allows for a bit more sartorial leeway. Streamlined pieces like a statement plaid blazer in a classic colorway (think: houndstooth or black-and-white check) could easily be worn to work — but when you swap out your matching trousers for a colorful midi skirt and sleek pumps, your outfit instantly moves into nighttime-appropriate territory.
If you're truly at a loss for what to wear, try thinking outside of overly complicated, over-the-top designs — like sparkly minidresses or a fringe-hem cocktail dress — and stick with what you know. If a suit feels like you, then replace your collared shirt with a sink tank. If you live in shift dresses, wear a strappy heel instead of your usual pump.
And while the more-is-more-is-more approach is usually fun, try a pared-down jewelry look for holiday office parties. A single eye-catching statement piece like a pair of subtle, jeweled drop earrings or a sequin-embellished bag serve as the perfect finishing touch.
Below, find all the inspiration needed to modernize your approach to office holiday party style, along with three simple outfit formulas to bookmark ASAP.
Coordinating Skirt Suit + Turtleneck + Statement Heels
The key to creating a memorable party look starts with timeless separates: A turtleneck and a classic plaid skirt suit is equal parts unexpected and chic when paired with statement shoes and a sequin party pouch that fits just the essentials. Each piece is work-ready on its own, but combine them for a festive night with your coworkers.
Pink Dress + Embellished Pumps + Eye-Catching Accessories
For those in search of an uncomplicated party-ready look that doesn't deviate too far from the norm, a sleek midi dress in a vibrant magenta hue is a welcomed alternative to the LBD. If your office holiday party is slightly more formal, you can't go wrong by accessorizing with a pair of sparkling drop earrings, embellished pumps, and a luxe handbag adorned with tassels.
Chunky Sweater + Leather Pants + White Heels
The key to keeping your cool this party season starts by staying true to your own personal style. If you tend to wear jeans or trousers to the workplace, integrate a pair of not-too-tight leather pants and a chunky knit as a simple alternative to traditional cocktail attire. To complete the look, add in a pair of bright white pumps and a small handbag in a textured or quilted fabric, which adds the right amount of polish for a subtle take on festive fashion.