How Jo Malone London's New Fragrances Bring An Unexpected Twist To Floral Scents
Jo Malone London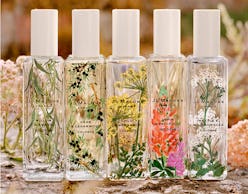 Ah, spring. The smells of freshly planted grass and blooming flowers begins to fill the air. If there were ever something to inspire an update of your signature fragrance, the changing of the seasons is as good a reason as any. And if you've been on the hunt for a fresh, bold scent to add to your collection, look no further than the brand new Jo Malone London Wild Flowers & Weeds range — with five unexpected fragrances to choose from, it just may be exactly what you've been craving as spring draws closer.
Every fragrance buff has probably enjoyed a bottle or two of Jo Malone London's inventive, inspirational scents. The wide range of colognes somehow manages to be simultaneously straightforward and complex, so there's literally a scent for every style, season, and mood. Now, there's a whole new collection to discover, as the brand has officially launched it's Wild Flowers & Weeds limited-edition collection.
Perfectly timed in anticipation of spring's arrival, the five new scents find inspiration in the unruly, unexpected beauty of weeds and wildflowers — and are now available on the brand's site and in Jo Malone London boutiques worldwide at $72 a piece.
The most unexpected thing about these new fragrances, however, may be the complementary notes Jo Malone London chose to mingle with its fresh, floral hero scents. If you tend to switch up your scents with each season, opting for brighter, lighter bottles come spring and summer, you may be surprised by the rich aromas added to these lively fragrances.
In the collection's new Nettle & Wild Achillea Cologne, the bright, green notes of tangy nettle, white achillea flower, and bergamot are treated to the softness of white musk, a note you may typically find in more rich, velvety fragrances. And the Willow & Amber Cologne combines softly woodsy willow tree and punchy pink pepper with a surprising (but welcome) layer of rich, smoky cashmere wood, earthy vetiver, and warm amber.
The rest of the scents similarly layer the delicate, bright florals, striking greens, and lively citruses most commonly associated with spring alongside luxe, smoldering, and earthy scents you wouldn't exactly expect — resulting in unique, modern fragrances you can reach for no matter the season. Plus, the seemingly unlikely combinations means each cologne will be unlike any other bottle in your collection.
Below, see and shop each of the five new fragrances from Jo Malone London's new collection to discover your new signature scent for spring, and beyond.