These 11 Beauty Brands Are SO Popular In London – & They Ship To The U.S., Too
Pixi Beauty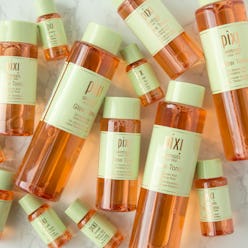 London may be best known for its picturesque sights, edgy fashion, unique club culture, and being an incredibly multicultural city — but it also the birthplace to some of the most exciting British beauty brands on the global beauty market. In recent years, the brands and products made waves on both sides of the Atlantic, winning people over for their innovative and efficacious formulas, eye-catching packaging, and overall fresh approach to beauty. In fact, iconic celebrity makeup artist Charlotte Tilbury's namesake beauty line was one of the most search for beauty brands on Google this year. And on social media, you don't have to look far to find posts of people about the likes of Pixi, Jo Malone, Elemis, and a host of other household and indie British cosmetics, hair care, and skin care companies.
For the intel on the best of the best in the London beauty scene, four British beauty and lifestyle bloggers shared with The Zoe Report what products they swear by; the tried-and-true items they always have stocked and reach for in their vanities. With picks from major brands to unique indie lines — here are all the beauty gems Londoners currently can't get enough of.
Danielle Vanier
Danielle is a blogger and fashion consultant who's worked with a wide range of beauty brands from Birchbox, Soap & Glory, and NARS as an influencer. You can find her work over on her blog, Danielle Vanier.
Hayley Hall
Hayley is an award-winning fashion, beauty, and lifestyle blogger, and a brand consultant with an expertise in helping companies like Paul Mitchell and Olay hone their digital strategy. You can find her work over on her blog, Hayley Hall.
Kristabel Plummer
Kristabel is a fashion, travel, and lifestyle blogger, Youtuber, and founder of You Can Sit With Us, a London-based blogger support group. You find her work over on her blog, I Want You To Know.
Ruth Crilly
Ruth is a beauty and lifestyle blogger, international fashion model, and founder of Colab Dry Shampoo. While she lives in the English countryside with her family, she's always in London for work. You can find her work on her blog, A Model Recommends.