Where To Buy Maison Margiela's Newest Summer-Inspired REPLICA Fragrance
SEPHORA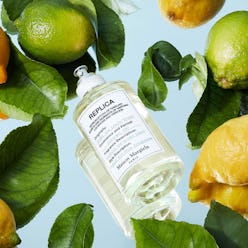 It's official — the darkest, coldest depths of winter have arrived, which means there's no better time to scoop up a perfume that'll transport you to a warmer place and time. Luckily, the perfectly-timed release of Maison Margiela's REPLICA Under The Lemon Trees Fragrance is destined to do just that. With just a few spritzes of the fresh scent, you'll be daydreaming of countryside strolls in the sunshine.
If you're already a fan of the Maison Margiela scents, you likely need no explanation as to why the aromas have developed such a cult following, and you won't hesitate to add this one to your collection for $126.
For those not so familiar with the REPLICA fragrances, though, there's a reason they're considered to be so special: Each scent evokes specific moments within periods of time and locations tied to memories, ranging from the warm, woodsy aroma of By The Fireplace to the crisp, invigorating scent of Sailing Day. It's just as lovely as it sounds, and Sephora customers agree: These scents (and others) have earned just under five stars and glowing reviews.
What can you expect from the newest fragrance? For Under The Lemon Trees, perfumer Violaine Colla drew from a personal experience of being in a citrus field on a warm summer day to create the latest scent. "Fresh, sparkling, and fizzy," is how she described the fragrance in a press release from the brand. "The tea leaves came to complete the lemon tree leaves. The cedar gives a structure to the fragrance and a bark to this imaginary tree."
Though you may not be able to relax under a lemon tree right now, this fragrance will certainly leave you feeling as if you are. Featuring a base of cedarwood, citrus absolute, and white musks, the perfume blends in notes of lime accord, petit grain, and cardamom to create a refreshing scent worthy of a spot on your vanity. The fact that it comes in minimalist packaging reminiscent of an old-fashioned apothecary jar is just an added bonus.
As for traveling? You won't have to leave your perfume at home. Snag the scent in a carry-on friendly bottle, $28, so you can have it on the go. Keep scrolling to shop the latest Maison Margiela REPLICA fragrance at Sephora, below.