J. Lo Added These Sleek Sneakers To Her Workout Wardrobe & They're Still In Stock
Michael Buckner/Getty Images Entertainment/Getty Images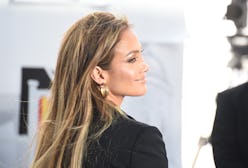 As winter comes to a close and warmer days emerge, you might be unearthing buried fitness gear to get your sweat on in the great outdoors. Making it to your hike is a big enough accomplishment, but looking good while you're at it is an added bonus. Need a little activewear inspiration? Jennifer Lopez's white workout sneakers are a great place to start.
On Weds., Lopez left a New York City gym dressed in graphic leggings, an oversized sweatshirt, and aviator sunglasses. Keeping it chill with a messy topknot and a bare face, Lopez's relaxed-but-stylish getup was understated in the best way. The real highlight of the triple threat's outfit, though, was a pair of sleek trainers by Nike. The perfect blend of comfort and style, it's no surprise J. Lo didn't slip out of the sneakers post workout.
The entertainment mogul has been training hard ahead of her upcoming role in Hustlers, consistently hitting the gym and even going on a 10-day challenge where she cut carbs and sugar completely. In recent weeks, Lopez has been spotted going to and from the gym a lot, and she manages to serve winning athleisure looks each and every time.
Even if giving up bread isn't part of your master fitness plan for spring, you can easily borrow other aspects of Lopez's wellness routine, including her style sensibilities. If your dusty gym shoes have seen better days, treat yourself to a shiny new pair of sneakers for added inspiration.
You'll be investing in your health, after all, so add one of The Zoe Report's selections to your cart for spring, whether you plan on climbing Mount Everest or just running to the farmers' market.
Shop The Look