Jennifer Lawrence's Engagement Ring Is A Minimalist's Dream
Tristan Fewings/Getty Images Entertainment/Getty Images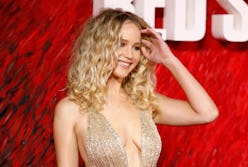 Jennifer Lawrence has monopolized the week's headlines with engagement news. Now, a photo of her possible ring has surfaced and it's so surprising, but not in the way you might be expecting. Jennifer Lawrence's engagement ring is what a minimalist's dreams are made of.
On Tues., word of the Oscar winner's wedding prospects spread through Hollywood like wildfire. Lawrence and her boyfriend of less than a year, 34-year-old art gallerist Cooke Mahoney, originally sparked rumors earlier in the week when they were photographed leaving a restaurant together — and there was a ring on Lawrence's finger.
Original reports of the ring called it "massive," and that's exactly what you'd expect of the Red Sparrow actor's symbolic rock, but the latest photos to circulate show quite the contrary. The ring that's thought to be Lawrence's engagement ring is so simple and minimalistic, it'll make you swoon.
Now, although the actor's rep did confirm with E! that the couple got engaged earlier in the week, it's not confirmed yet whether the dainty, diamond-less band she was wearing on her left hand is the ring. The Zoe Report reached out to Lawrence's team for comment and didn't receive a response by time of publication.
If it is, indeed, the one that Mahoney popped the question with, then Lawrence is sporting the latest trend in engagement rings. Feb. is the tail end of the unofficial "engagement season" that starts in Nov., which means jewelry designers are now certain of the 2019 trends. Their verdict: minimalist engagement rings are in.
Thin bands, skinny baguette-cut diamonds, and single-stone silhouettes are apparently dominating the ring scene this year. Brides-to-be are craving clean lines and simplicity, foregoing the colossal diamond that's been historically coveted for a cluster of smaller stones instead.
So, gone are the days when bigger meant better. In 2019, tiny is all the rage. Lawrence's alleged engagement ring is all the proof you need that simplicity is just as stunning as the bygone big diamond trends, too.
The 28-year-old actor is known for being down-to-earth and relatable, adorably uncensored and easily embarrassed, just like you. It would make sense that — even though she's topped Forbes' annual "highest paid actors in the world" list two years in a row — she still chooses to keep it real with an understated ring.