It's A 10's Black Friday Sale Will Save You 50 Percent Off All Its Best-Sellers
It's a 10/Instagram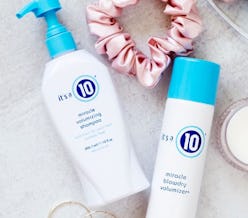 While you're strategizing your shopping plans for Black Friday, no doubt you've got your sights set on the brands offering big ticket items and more spendy presents for a lot less (after all, there's no better way to cushion the blow to your bank account during the holidays). But the biggest shopping day of the year is also an incredible opportunity to save on the essentials you know you'll need, from household items to that hairspray you can't live without. And as far as the latter is concerned, look no further than the It's A 10's Black Friday sale — just wait 'til you see the savings.
It all starts on Nov. 29 when the crowd-favorite hair care brand kicks off its Thanksgiving weekend sale. The entirety of its website will be on sale for a whopping 50 percent off, and shoppers will also score free shipping plus some free samples with every order regardless of total spend. All you have to do to earn the discount? Simply plug in code BLACKFRIDAY50 at checkout and you'll see the savings reflected.
And if you don't get a chance to hit up the sale as soon as it kicks off, not to worry — it's live on It's a 10's website through Dec. 2 until 11:59 p.m. EST. Yep, you've got four whole days to find time to snag some strand-perfecting products for super-low prices.
Just in case you don't know where to start with the major sale (you'll notice that an incredible number of It's a 10's products boast perfect ratings), start with some of the brand's most universally beloved buys. The original cult-loved Miracle Leave-In Conditioner Spray, which promises to smooth strands, enhance shine, and boost your hair's body, will be on sale for just $9.49 for a four ounce bottle. Or, for an even richer treatment, reach for the Miracle Deep Conditioner Plus Keratin that'll moisturize, strengthen, and smooth strands for just $12.49 during the sale.
For top notch hairstyles to get you through the holiday season and beyond, snag some top-rated styling essentials from It's a 10. Use the Miracle Blowdry Volumizer, down to $9.99, to prep your tresses for a glossy, bouncy blowout, and after you've perfected your style hit it with a shot of Miracle Finishing Spray, also $9.99 — fans love that it gives flexible, non-sticky hold for a natural finish.
Add It's a 10's Black Friday sale to your shopping plan of attack, and prep your list by scrolling through these bestsellers, below.