4 Easy Holiday Hairstyles Inspired By Sarah Jessica Parker
Pascal Le Segretain/Getty Images Entertainment/Getty Images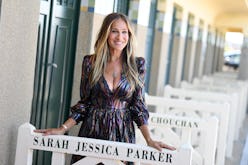 Sarah Jessica Parker's Sex and the City days might be over, but Carrie Bradshaw lives on through the actor's impeccable style. More than a decade after the show's last episode aired, the 53-year-old hasn't given up her bows and sparkles, and her hair still boasts that iconic bounce. Now that your holiday parties are approaching, a Sarah Jessica Parker-inspired hairstyle could be just what your outfits need.
Whether she's sporting glossy Carrie Bradshaw curls or her signature messy waves, the Failure to Launch actor never has a bad hair day, it seems. Even her untidiest off-duty ponytails look purposefully and effortlessly unkempt, but that's what makes them so easy to recreate. Lucky for you, you don't need a glam squad to pull off Parker's looks at home.
Her red carpet-ready side pony, for instance, is the best way to elevate your formal New Year's Eve party ensemble, while her everyday waves could be a fit for your low-key gift exchange with friends. Allow the queen of fashion to inspire all your hairstyles this holiday season. Ahead, four of Sarah Jessica Parker's looks that you won't have a problem reconstructing for any party on your agenda this season.
Messy, Tousled Waves
Parker's go-to look includes loose and wavy, just-woke-up hair. It's voluminous and piecey, typically parted in the middle, and you can often find the actor puffing it up before posing for a photo. She pairs her favorite low-key hairstyle with everything from a casual jeans and button-up combo to the glitzy metallic dress she sported to the Deauville American Film Festival in France, proving that these casual waves are versatile enough to wear with any look.
Get The Look
Side Pony
In Sept., the mom of three stunned in a bright-red ballgown with sky-high shoulders at the New York City Ballet Fall Fashion Gala, and her wispy side pony was her best accessory. It isn't often that you see a side ponytail on the red carpet these days, but this trendsetter brought it back in style with one look. She pulled her blonde hair to the nape of her neck, omitting the wispy pieces around her face, and secured it with a trendy velvet ribbon. Her pony was glossy and straight as it cascaded down her torso, complimenting the fairy-tale frock perfectly.
Get The Look
Sleek Topknot
The actor sported the sleekest, most polished topknot to the New York City Ballet Spring Gala earlier in the year. She wore it slicked back and pulled into a tight bun without a single hair out of place. The updo was a big, shiny version of the ballerina bun every girl wants. Pulled back from her face, it allowed Parker to wear heavier makeup (glitter eyeshadow included) and show off a pair of swoon-worthy diamond earrings.
Get The Look
Glossy Curls
Parker sported an elevated version of her go-to waves to the 2018 Golden Globe Awards. She wore a lacy black dress with a corset bodice and puffy skirt — in true SJP style — and topped it off with glossy curls. The actor parted her hair at the middle and had tidy, shiny face-framing curls. The front pieces kept it polished, while the rest was looser and a little more unkempt like she usually wears it, a perfect balance between casual and refined.
Get The Look