IT Cosmetics' Black Friday Sale Won't Be Your Only Chance To Save On Best-Sellers This Season
IT Cosmetics/Instagram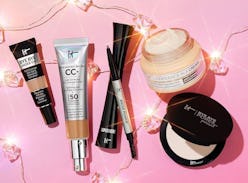 It's the most wonderful time of the year to be an IT Cosmetics fan. Not only is the crowd-favorite beauty brand bursting with holiday sets galore (which you'll want to gift and receive), but it's also about to kick off a major series of discounted shopping events — and it all starts with IT Cosmetics' Black Friday sale. Get ready to gain 20 percent off all your favorites, plus everything else the brand has to offer, and score some special gifts with purchase too. If you were waiting for the perfect time to stock up, this is it.
Black Friday is looming ever nearer and as you know, it signals a mad grab to score as many gifts and everyday essentials as you possibly can for lower than usual prices. Naturally, beauty brands like IT Cosmetics are joining in on the fun, offering can't-miss discounts and major incentives to spend more during the year's biggest shopping day — and beyond into the just-as-huge online shop-a-thon better known as Cyber Week.
It all starts on Nov. 29, when everything on IT Cosmetics' website (including select sale products) will be 20 percent off when you plug in code THANKFUL at checkout. Plus, if your purchase totals $50 or more after applying the discount code, you'll also get free primer and mascara samples along with all the goodies in your cart.
The Black Friday sale continues through Dec. 1, giving you ample time to snag gift sets and stock up on fan-favorites (like this brow pencil) — but just in case you miss something on your list, IT Cosmetics is keeping the sale going on Cyber Monday (Dec. 2). Again, everything on site will be 20 percent off when you plug in Cyber Monday code LETITSHINE while checking out. But this time, you'll get a free four-piece gift set with $70-or-more purchases, and a free full-size Superhero Mascara if you spend $100 or more. Just remember, the gifts only apply if your total hits those markers post-promo code.
For one last hurrah, IT Cosmetics is letting its 20 percent discount hang around through the rest of Cyber Week from Dec. 3 through Dec. 8 — this time with code ITCYBERWEEK. The surprise that awaits shoppers during this period? A free full-size Je Ne Sais Quoi Lip Treatment when your cart totals $60 or more after the discount. If that sticks out to you more than the previous gifts with purchase, consider waiting 'til Cyber Week to do your shopping, but be prepared for some items to be sold out.
Need some pointers on what to fill your shopping cart with? Check out these tried-and-true top sellers and gift sets (all marked with their holiday sale prices) below.