Irina Shayk Made This Polarizing Trend So Wearable
Nicholas Hunt/Getty Images Entertainment/Getty Images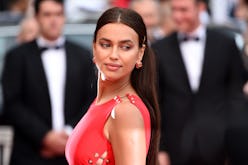 Nobody has ever looked as cool pushing a stroller as this Victoria's Secret Angel, of that you can be sure. Highlighter colors, cutoff shorts, and a tie-dye cropped t-shirt came together for Irina Shayk's latest off-duty look. Once you see how effortlessly well these summer trends complement each other, you won't want to wear anything else.
If baby Lea de Seine inherits her model mother's style, then let's just say 2030 will have a major trendsetter on its hands. Like the iconic duo Kaia Gerber and Cindy Crawford, Shayk and her daughter have, by the looks of it, already started dressing alike.
On Weds., during their regular park run, the mom and daughter were pretty much wearing the same tie-dye top. Lea's was a classic kid look like the kind you probably wore to soccer practice back in the day, but Shayk's — well, Shayk's was a fashion statement.
Her colorful crop top and white cutoff shorts combo — especially paired with those neon, platform Nike sneakers — pretty much just proved she's the most stylish Upper East Side mom out there.
The model is constantly pushing a stroller around her NYC neighborhood wearing streetwear that would give the Hadid sisters a run for their money: bike shorts, Doc Martens, a Burberry dress, just to name a few.
Tie dye, as you know, is one of the biggest trends of summer, approved by fellow models Gigi Hadid, Hailey Baldwin, Alessandra Ambrosio, Kendall Jenner, and the like. The groovy swirl is showing up in everything from slip skirts to swimwear this season, but Shayk's crop top is a lesson in the basics.
Though it's unclear where exactly the model got hers from, this tee is not hard to find. You could even go fully old-school and make your own like you used to in the '90s. Irina Shayk-inspired tie-dye tops to pair with your cutoffs, ahead.
Shop The Look