Shopbop's Betting Big On This Summer Trend — Here's Exactly What To Buy
Cornel Cristian Petrus/Shutterstock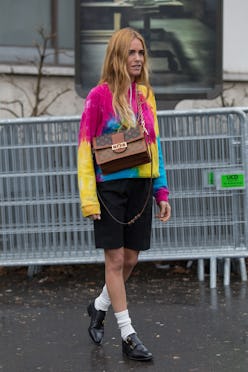 The trend that took the fashion world by storm (and possibly surprise) this season is undeniably tie-dye. In case you haven't heard, the '90s trend is back and bigger than ever. But why has it made such a swift comeback in 2019? "I think this season is all about the 'go bold or go home' trend, which tie-dye plays into," Shopbop's Fashion Director, Caroline Maguire, tells The Zoe Report in an email. "It's all about having fun with your look and embracing more youthful throwback trends." And given its growing popularity, summer 2019's tie-dye trend is easier to find than ever — just scroll through Shopbop's endless pages for proof.
But forget the iterations of the past — designers are taking a chic, modern approach to this traditionally "hippie" trend. From elevated color combinations to upscale fabrics, each designer incorporated their own creativity into the old-school print. Case in point: R13, a brand that took tie-dye and ran with it this season. The denim designer's collection included eye-catching pieces ranging from a tie-dyed matching suit to sweatshorts, as seen on model Kaia Gerber in the brand's Spring/Summer 2019 collection.
But while the newest pieces do often feel more modern and fresh than those of the past, it can still be a difficult trend to wear. Maguire's suggestion? Use contrast to tone it down.
"It's all about juxtaposition when you're wearing neon — pair it with neutral tones such as cognac and camel to ease into the trends," she explains. This simple trick can also make this loud print wearable for more serious situations like work; just layer something a tie-dye button-down under a cream blazer for the office for a less out-there take on the trend.
To start incorporating this print into your wardrobe now, keep scrolling to shop Maguire's favorite tie-dye pieces from Shopbop, which include styles from R13, Ganni, and AGOLDE — as well as nine other tie-dye pieces that will instantly make you feel like you're back in the '90s.