Gigi Hadid Just Wore A Bold Approach To The Tie-Dye Trend — Here's How To Follow Her Lead
Gotham/GC Images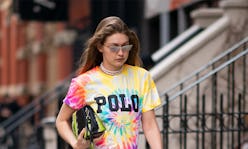 From high-fashion runways to elevated street style, tie-dye is making a comeback in a serious way. The fun-loving print of yesteryear has been welcomed with open arms by fashion houses and style stars alike, and Gigi Hadid's tie-dye shirt and bag will convince you to go bold this spring. The 23-year-old hit the streets of New York City in her Sunday best, sporting the cheerful trend in more ways than one.
The casual weekend getup, featuring a Ralph Lauren Polo tee, cream-colored capri pants and matching Reebok sneakers, was topped off with an adjustable Prada crossbody bag. The green and black tie-dye bag was an unexpected pick to accent the eye-catching t-shirt, but gelled surprisingly well with the entire look once all was said and done. Leave it to Hadid to demonstrate how to up the ante with the most daring trends, while somehow managing to look totally cool and accessible.
With her flowing blonde hair left down and natural, the eldest Hadid sister finished off the daytime look with a pearl choker and understated rectangular sunglasses. Setting herself apart from Bella's edgy, '90s-inspired style, Hadid's look was relaxed but polished, merging a classic prep aesthetic with 2019's new-age twist on tie-dye.
From R13 Denim to Reformation, brands at every price point are taking their shot at the print reminiscent of hippie style in the '60s and '70s —and the result is anything but frumpy. With updated takes on hues, materials, and silhouettes, labels are developing collections that feel incredibly modern, with a range of colorful pieces from subtle to statement. There are slews of fun picks to choose from, and as Gigi has proven with her trend-forward weekend outfit, they can co-exist within one succinct look.
Reaching for more than one tie-dye item at once might spark apprehension, but carefully crafted pairings will actually mesh so well together. Take a cue from Hadid and commence springtime weather by diving head-first into the lighthearted pattern, and try out one of The Zoe Report's pairings, below.
Shop The Look