The One Throwback Piece You Need In Your Wardrobe This Summer
@aemiliafay on Instagram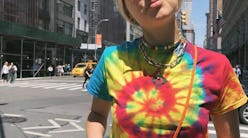 Tie-dye is one art form that has rather miraculously withstood the test of time. At present, there's no piece quite as iconic as a bold, color-infused (and once again on-trend) tie-dye tee. During the Spring/Summer 2019 runway season, tie-die was everywhere — from R13's iconic multi-color suit, to the dip-dye dresses and tops at Prada. And though the splashy pattern is currently available on everything from bucket hats to tap shorts, there are a slew of traditional t-shirts that feel especially wearable now that summer's almost here.
Tie-dye is by no means a "new" trend. It's been long associated with the '60s counterculture in spots like San Francisco's Haight Ashbury, where hippies wore the psychedelic pattern while listening to The Grateful Dead. Perhaps it also reminds you of childhood summers spent in the backyard with buckets for dip-dyeing your own masterpieces. What you may not know, is that its origins extend back to the 4th century in Peru and China according to the World Shibori Network, with traditions like Japanese Shibori and Indian Bandhani inspiring the once-again-trendy tie-dye patterns of today.
"Tie-dye is bright and fun and makes people happy, so for that reason, I hope it's not going anywhere," Veda Founder and Creative Director Lyndsey Butler tells TZR. Her NYC-based brand included a multi-color tee in its current collection. "I love the unique nature of tie-dye — or any hand-dyeing techniques. Each piece is truly a one-off," she says. "Summer is always a great season to really embrace it." Her team uses a dip-dye technique on some of the garments to create large bands of color at the top or bottom of the piece, which results in a color block effect.
Los Angeles-based denim label AGOLDE also included a splash of tie-dye in its summer collection, including a colorful collection of tees. "All of our tie-dye products are actually individually hand-dyed by our team," AGOLDE Design Director Erin Meehan says. "First, the t-shirts are folded and tied up in different intricate patterns, depending on the tie-dye look we are trying to achieve. We have the colored dye arranged in bottles and it is applied by hand to create a pattern. We then put the tees through a final wash." The team turned to vintage prints for inspiration, and then found ways to translate them to a tie-dye environment; The result, as you can imagine, is incredibly interesting.
Though there are plenty of ways to wear and style tie-dye this summer, you may be curious how these experts recommend incorporating the pattern into your own wardrobe. "I love to wear tie-dye with black denim, as it gives it a modern look," Meehan shares. "We have a new long peddle pusher short called The Carrie, which is my favorite fit for Spring/Summer. I throw it on with a tie-dye shirt and top it off with a blazer and sandals." For Veda's Butler, she's feeling a tie-dye tee styled with a suit, the brand's leather Milano Shorts, or with more tie-dye (the new way to do tonal dressing, perhaps?).
Ahead, you'll find a bit of inspiration from editors and influencers who are already wearing the tie-dye tee and shop your favorites to get going on a cool, casual wardrobe for the season.
Bold Accessories
Style with a mini bag and statement jewelry for an all-out summer look.
With Bike Shorts
Biker shorts are another summer trend that will pair well with a multi-color shirt.
After Hours
Tie-dye doesn't just have to be for day. Try a cool multi-color top and style with statement earrings and denim.
The New Tonal
Feeling especially bold this summer? Try styling two tie-dye pieces together. Even if the colors don't perfectly match up, the look will be on trend for the season.
California Classic
For the ultimate L.A. look, style tie-dye with high waisted jeans and a pair of crisp, white sneakers.
For The Festival
To pull off a cool festival look, style with high-waisted denim shorts and a pair of chunky Mary Janes.
A pair of tall metallic boots can help you pull off a retro, '70s-inspired tie-dye look. Bonus points if you finish with a fringe jacket.