HVN's New Teddy Bag Will Convince You To Match Your Purse To Your Coat Every Day
Courtesy of HVN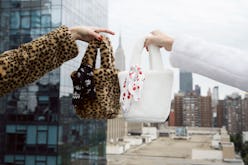 Somewhere along the way, matching kind of fell out of style. When the "effortless" look replaced the want to appear perfectly put together from head to toe, people stopped matching every piece and accessory and instead embraced combining different styles, patterns, and more. The clothing label HVN is bringing coordinated outfits back, though, with a brand new bag designed to match its faux fur Courtney coat.
Previously, the brand started by Harley Viera-Newton has been made up of pieces like vintage-inspired dresses and faux fur coats. However, HVN just launched its first-ever purse, the faux fur Teddy bag, which is now available to shop on HVNLabel.com and retails for $295. The bag comes in three colorways — leopard, white, and black — and each one is lined with 100 percent printed silk and comes with a removable tie scarf to match the lining.
When it came to the design of the purses, Viera-Newton wanted to create something that would make dressing for winter less of a chore. Thus, the idea to match the bags to the line's faux fur coat was born.
"Anyone who knows me knows I'm a sucker for matching my bags to my coats, whether it's coordinating print, color, or fabric," says Viera-Newton in an email. "As someone who dreads winter, I wanted to create a fun, cozy bag to pair with our coats while still showcasing the HVN prints that are the DNA of the brand. My hope is that these bags give our customers one reason to get excited about dropping temperatures!"
You certainly don't have to match your bag to your coat if that's not your thing, though. As the printed tie scarves that come with each bag prove, the purses look just as good paired with an unexpected print or color, too. For a less coordinated look, add the leopard print Teddy bag to a floral dress or a brightly colored ensemble to keep an element of fun in your outfits in the dead of winter.
And if you're a little less adventurous in your dressing, the other two purses come in solid hues that lend themselves to almost any look. For minimalists, the black colorway will be a subtle addition to your neutral outfits. Alternatively, the white option will provide a fresh pop to both dark and colorful looks.
Though Viera-Newton only launched HVN in June 2016, it's already made a name for itself as a celeb favorite. Reese Witherspoon, Jennifer Garner, and Karlie Kloss are just a few of the many, many stars (seriously, there are so many) who have been spotted wearing the brand's sweet, effortless dresses — and now that the label is expanding into purses, there's no doubt celebrities and It-girls will be making the new launch a must-have bag for winter in no time.
Thanks to the photo-worthy nature of this purse (especially paired with its matching coat), this will inevitably flood your Instagram — so get ahead of the crowd and snag one (or all) of the three colorways now on HVNLabel.com.