This Cult Moto Jacket Is In Every It-Girl's Closet
Amanda Charchian x Ana Kras for Veda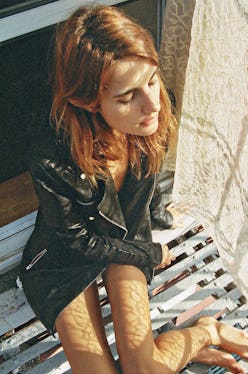 The Climb is our series that highlights a top-selling item from brands both established and buzzworthy. In these monthly features, you'll hear straight from the designers and learn about the fascinating history of how one extra-special piece exceeded expectations and became a forever product. This month's focus is on the Jayne Jacket, designed by Veda. Find the story behind the iconic leather design below.
There are few fashion items more exquisitely synonymous with cool than a leather moto jacket. It has long been the pick of rebellious, provocative icons spanning from Marlon Brando and James Dean to Madonna and Joan Jett. The origins, like so many modern-day staples, are rooted in utilitarian functionality, however, the leather moto jacket is a staple that transcends the constraints of time and occupation. It has the mystical and transformative qualities that can make even the timidest individual instantly, well, cooler (hello, Sandy Olsson). And, If you don't own one it's time you change that — with a little help, of course.
Veda is a Manhattan-based label that's a bonafide staple in the city's downtown fashion scene (its home-base is Canal Street). Founder Lyndsey Butler launched her first collection back in 2008 and has steadily cemented the brand as a mainstay for women who lean toward an edgy, creative aesthetic. The Jayne — Veda's now-iconic leather moto jacket — was designed to be both modern and timeless. "It has all the trappings of a classic leather motorcycle jacket," founder Lyndsey Butler explains. "A belt, a slightly oversized look, snaps, and chunky hardware. That holy grail piece. The leather quality is super soft and the fit is feminine without looking too girly [but modern enough] so it doesn't look like you're wearing your dad's motorcycle jacket."
Though the jacket is now part of Veda's core collection, it wasn't always so. "I really couldn't sell a classic moto jacket in the beginning. It took several seasons and years for the trend to come back around," Butler begins. Back when she launched the brand in the early aughts, fashion leaned toward softer boho pieces as perfected by the likes of Lauren Conrad and Mischa Barton. "In the beginning, we sold a lot of leather jackets that didn't look like leather jackets. I know that sounds crazy, but it was all about drapey blazers or cropped bombers at that time."
Orders for the Jayne jacket began to pick up steam around 2014, when Butler and the team began to play with new materials and released an updated version of the design. "It was when we released the Jayne Suede a couple of seasons later that I knew it was here to stay," says Butler. "When I noticed the same customers were coming back for the suede version I knew we had hit on something great."
Veda Founder Lyndsey Butler
Though Veda pre-dates Instagram, some of the platform's earliest and most influential users helped grow brand recognition, sharing images of themselves wearing the Jane along with other Veda designs. Leandra Medine, Aimee Song, and Emily Ratajkowski, all supported the brand — with Medine even going so far as to wear a Veda vest on her wedding day in 2012. She later launched a Veda x Man Repeller capsule in 2015.
The level of popularity the jacket can be attributed to two things according to Butler: fit and quality. "When you put on a leather jacket that fits perfectly you feel cool and strong, they are really powerful!" she says. "The leather we use lasts forever. The most common repair we do is a lining replacement, meaning women are wearing their jackets so much the lining is giving out in certain high impact places but the leather still looks great." 
According to longtime Veda customer Tamara Najm, "I've found the Jayne jacket to be so versatile and the perfect complement to literally any outfit, spring through fall, that I purchased it in three colors: Black Leather, Emerald Suede, and Cognac Suede. It's edgy and classic all at once."
Though the Jayne performs well year round, Butler shares that there is a notable uptick between August and March — traditionally transitional seasons where a throw-on-and-go jacket is the ideal piece. "I love that it works with anything from a feminine floral spring dress to jeans and boots," explains Amanda Garrett-Skeadas, a fashion industry veteran and long-time Veda wearer.
So how does the founder wear her Jayne jacket? "With vintage Levi's, a fun Veda sweater and cowboy boots. Alternately with my gym outfit: Outdoor Voices leggings and a Veda sweatshirt," Butler says. "The Jayne is great because it is roomy enough to fit a cozy sweater under but because of the structure and shape of the jacket, it still looks slim." She adds, "And then if you are a crazy layers person like me, I will wear another wool coat on top. Pro styling tip: Put the leather collar and lapel on top of the wool collar for a fun moto update for your coat."
Feeling inspired? Scroll down to add the Jayne to your wardrobe and stay tuned for our next installment of The Climb.