How To Create An Instagram-Worthy Shoe Closet, According To Kim Kardashian's Decor Expert
The Home Edit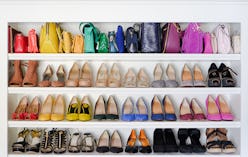 Organizing your clothes can be a daunting task, but at least the methods are simple and defined: Hang what you need to, fold what you can, store what you don't presently wear. When it comes to how to store shoes, however, it can feel like a confusing free-for-all. Boots can't be stored like sneakers, which can't always be stored like heels. Plus, even though dressers hold hoards of clothes, there's no one go-to repository for shoes — and so many of the ones that are out there likely don't work with the curated aesthetic of your home décor. Things only get more complicated when you factor in common fashion-girl issues like owning too many shoes (none of which you can ever seem to part with), and living in a city apartment where storage space is at a premium (there's a reason why Carrie Bradshaw kept sweaters in her oven).
To help bring order to your mess, we tapped gurus Clea Shearer and Joanna Teplin of The Home Edit. One glance at their Instagram and it's clear why the Nashville-based duo has become the de facto organizers to the stars, lending their meticulous magic to such celebrity spaces as Lauren Conrad's home, Mandy Moore's pantry, Rachel Zoe's closet, and Kim Kardashian's house. Shearer and Teplin's signature approach to home organization emphasizes beautiful design and aesthetics in tandem with functionality and systematized order — making them the ideal experts for the style-conscious crowd.
(Pictured above: Joanna Teplin (L) and Clea Shearer (R) with Reese Witherspoon)
Below, they share their top tips for decluttering and arranging your shoe collection, rules for getting rid of stuff, and hacks for when space is limited. And if you want additional methods and tools for organizing the rest of your home (and more inspiration from their celebrity projects) pre-order a copy of Shearer and Teplin's forthcoming book, The Home Edit: A Guide to Organizing and Realizing Your House Goals.
Begin by editing down.
"Always start with a purge," Shearer says. "This means removing every pair of shoes you own and laying them in front of you, grouping them into categories. It helps when you can visually take note of what you own." Once you've taken inventory of everything you own, the duo recommend asking yourself when you last wore the shoes, and why — do they give you blisters? are they worn out? Then eliminate accordingly.
Decide how you want to categorize.
Everyone thinks differently, so stick to what makes the most sense to you when choosing how to categorize your shoes. "The way you categorize your items depends on how your brain works," Teplin explains. "For the most part, we suggest starting with broad categories: Flats, sandals, heels, boots, sneakers. From there, decide what shoes you wear the most. Those should be the most accessible. Seasonal shoes like boots and sandals can be stored on a higher shelf and rotated as the weather changes. The same goes for shoes you wear on special occasions like heels, or if you're like us, the sneakers that sometimes make it to the gym."
Keep your shoes where you can see them.
If you've been stuffing your shoes in the back of your closet, or worse, under your bed, you're doing it all wrong. Not only is it damaging, but how are you going to get the most wear out of your shoes if you can't even see what you own? "Many people have the first instinct to store their shoes on the floor or shove them tightly onto a shelf. However, this isn't functional — it just makes shoes harder to find and they often end up in a heaping pile," Teplin notes. "Make your life easier and avoid unnecessary damage by keeping your shoes visible and contained by implementing storage solutions, whether they are stacking or hanging. The system you choose depends on closet space, the number of shoes you own, and what you will maintain."
Make clear plastic bins your new best friend.
When creating a Pinterest-worthy shoe closet, labeled plastic bins are a lifesaver for keeping things organized, easily accessible, and clean. Choose different height boxes for different shoe styles. "For flats, storage solutions like Elfa over-the-door organizers and clear stackable bins help contain your shoes as a pair and maximize closet space," Shearer recommends. "The taller boxes are also the perfect size for heels."
Don't neglect your boots.
Boots are tricky, especially if they're anything taller than ankle-height. Knee-high and up require special care when storing to make sure the structure isn't compromised. "When boots aren't stored correctly, they tend to lose shape and take up too much space," Teplin explains. "To avoid this, store your boots in clear or labeled boot boxes and stack them on your shelf. If you don't have enough shelf room, decide what boots are seasonal and store them away until you're ready. They can also be hung carefully on huggable hangers."
Maximize space by stacking and stowing.
When storage space is at a premium, maximize your closet capacity by thinking vertically. "Stackable shoe storage is a great way to optimize your closet shelves," Shearer explains. "You not only increase the number of shoes each shelf can hold, but you also keep them protected from scuff marks and dust. For those who have enough closet door or wall room, over-the-door organizers or DIY shelving are ways to effectively maximize space and functionality."
Give your shoes the TLC they deserve.
Once you have your shoes organized, protect the time and money you've invested in them by properly cleaning and caring for them. This becomes even more important in winter, when leather and suede footwear face the damaging effects of water, salt, and snow. "Preventative care is always best!" Shearer emphasizes. "The first step is to protect your suede and leather from the elements. Spray your boots down with a waterproof spray (they have separate formulas for both leather and suede) and condition your leather regularly."
"If you do happen to get stains on your shoes, never, ever use water to clean suede. It will leave an even bigger stain. Instead, sprinkle talcum powder over the stain or scuff, let the powder sit overnight, and brush off in the morning. For leather, simply wipe your shoes down with equal parts water and white vinegar. A Magic Eraser is a lifesaver."
Finally, to boil the duo's key tips down to one singular idea: Teplin says, "take care of your shoes by not throwing them in the bottom of your closet. An organized storage system will help protect your shoes from unnecessary damage and keep the material in tip-top shape."