This Hailey Baldwin-Approved Styling Trick Makes Leggings Look So Elevated
SPOT / BACKGRID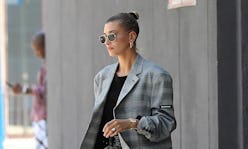 Hailey Baldwin was buttoned up and ready for business in Los Angeles on Thurs. morning, sporting an oversized Balenciaga suit jacket while perfectly demonstrating how to wear leggings in spring. Dressed in skin-tight patent leather pants paired with the roomy plaid blazer, the 22-year-old completed the neutral look with checked high-top Vans. The structured look was a far cry from Baldwin's shimmery pale pink Alexander Wang gown at the Met Gala last week, with the model proving she really can do it all.
Coordinating with the sporty look, Baldwin kept her beauty vibe minimal, opting for no-makeup makeup and a slicked bun, complete with a black scrunchie and gold hoop earrings. A few months after Justin Bieber made his foray into fashion design with Drew House, Baldwin continues to prove her own stylistic sensibilities with winning street style looks on both coasts.
Last week, the newlywed reworked her off-duty style with an offbeat feminine twist, pairing sparkly socks with pumps, alongside a hoodie and jeans. While completing both aforementioned looks, the Levi's ambassador topped things off with stylish eyewear, staying incognito behind the square-shaped gold-framed shades on Thurs.
Leggings are basically the older cousin of bike shorts, so it's no shocker that they're beginning to pass as pants again. Despite being laid to rest back in the early 2000s, the sportswear staple is proving it deserves a spot in the wardrobe rotation of modern women outside of the gym.
If you're worried about looking too casual, offset moveable workout bottoms with a structured blazer or trench coat for a thoughtful juxtaposition you can even get away with at the office. As proven by Baldwin's polished look, opposites attract, so shop The Zoe Report's selection of blazers and leggings for spring, ahead.
Shop The Look