4 So-Easy Ways To Style A Blazer, According To Kaia Gerber
Claudio Lavenia/Getty Images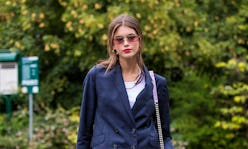 Even though Kaia Gerber has some pretty large shoes to fill as daughter of the legendary Cindy Crawford, she's clearly not having too much trouble following in her supermodel mother's footsteps. With an impressive range of glossy covers and runway shows under her belt, the 17-year-old is already establishing herself as a style icon in her own right, with the help of her signature street-style aesthetic. Jeans, sneakers, and hoodies remain consistent go-tos for the model, but Kaia Gerber has truly mastered the art of styling a blazer.
One scroll through Instagram confirms fashion girls agree that suiting is in for spring, and a good blazer is one magical item with the power to instantly elevate. Gerber has been spotted in the office-ready staple countless times, demonstrating a number of ways to style the classic favorite. Borrow from four of the model's no-fail outfit formulas and shop The Zoe Report's picks to recreate them, ahead.
Pinstripes + Graphic Tee
Let's face it: A band tee with straight-leg jeans is one look that has serious staying power. The slightly retro, relaxed outfit is super versatile, and looks prime paired with strappy sandals or a structured blazer. Gerber ties the laid-back look together with a boxy pinstripe style, which offers an interesting contrast against her utilitarian footwear. Half leisure, half business — it's the best of both worlds.
Houndstooth + Leather Pants
A bit more sleek than the aforementioned look, it appears that Gerber means business in this shiny houndstooth blazer and black leather pants. Accented with gold hoops and a chain, she's equipped to take on the world — and maybe even a puddle of sludge — based on the weather-resistant footwear which adds a futuristic spin.
Mini Dress + Sneakers
If mother nature blesses you with a bare-leg moment, consider layering a chic blazer over your favorite mini dress à la Gerber. It's probably not the first style pairing you'd think of, but the combination turns out to strike up an interesting dynamic that's fit for several occasions. Because who doesn't love a dependable day-to-night look? Convenience is key.
Power Suit + Statement Bag
From high-fashion runways to metropolitan sidewalks, fashion girls everywhere are suiting up. Regardless of your price point or whether you're headed to dinner or the boardroom, there's a plethora of options available. Gerber styled her oversized plaid suit with trainers and a metallic crossbody bag, and whether you go for a pastel suit style or a similar jewel-toned hue, it's a winning look for spring.