How To Wear Colorful Eyeliner, According To Priyanka Chopra, Lucy Boynton, & More
Pati Dubroff / Instagram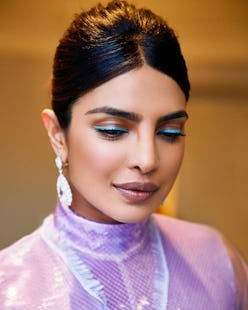 A look back at makeup from the '70s through the early aughts reveals one recurring trend: bold eyeshadow. It wasn't until recently — when the likes of Gigi Hadid, Lucy Boynton, and Rihanna started churning out lessons on how to wear colorful eyeliner — that the stick unseated the long-reigning palette on the proverbial eye makeup throne.
The increasing popularity of non-black eyeliner correlates with an emerging graphic liner obsession, which has, of course, been perpetuated by pandemic experimentation and the subsequent visual loss of all facial features below the eye (R.I.P. lip products). Now a rainbow of pencils akin to Crayola's is a standard feature in any modern cosmetic lineup.
In addition to lining the eye — its intended purpose since roughly around Cleopatra's time — eyeliner, as it turns out, comes in handy for creative lid doodling, too. Just look at Lucy Boynton's fashion-forward graphics, Gigi Hadid's repeated floating lines, or Ariana Grande's instantly iconic eye makeup from the 2020 "Rain on Me" video.
There are at least a trillion ways to wear it (and these days, it doesn't even have to be symmetric), but ahead are seven colorful eyeliner ideas from the very celebrities leading the trend.