How To Style Fishnet Tights The Sarah Jessica Parker Way
AWNY2017/Shutterstock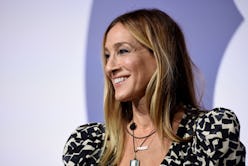 Sarah Jessica Parker just resurrected an '80s trend you probably thought you'd never see again. The actor attended an opening of a Disney exhibition in New York City on Weds. to celebrate Mickey Mouse's 90th birthday and she certainly dressed the part, wearing Oz-inspired red sequin heels, mouse ears with a fascinator, and stockings to match. You might be afraid to sport these bold tights now, but not after you learn how to wear fishnets the Sarah Jessica Parker way.
A Disney-themed outfit could have easily turned out tacky, but not when styled by this legendary trendsetter. The 53-year-old honored everyone's favorite fictional mouse in his classic colors: black and red. She wore a white blouse with a plunging neckline and puffy sleeves tucked into a scarlet A-line midi skirt in true SJP style. Her pointed-toe heels were dazzling red and fabulously sparkly like Dorothy Gale's in the Wizard of Oz, and to pull it all together, she wore fishnet tights.
It isn't often that fishnets make their way onto a red-carpet event these days. They're more apt to make an appearance at a Halloween party, perhaps to complete the look of a '20s flapper or a can-can dancer from Moulin Rouge. But if the always-on-trend actor is wearing them out, it can only mean that these statement stockings are worth experimenting with stat.
Fishnets have been easing their way into modern-day fashion for a while now, actually. They've appeared all over the runway since 2016, when Lanvin, Vivetta, Jason Wu, and Jenny Packham models sported them on the catwalk. Nonetheless, the historic accessory has been slow to take off. In Oct. 2016, it was hard to find a street-style look throughout Spring 2017 Fashion Week that didn't feature the trend. They popped up under slip dresses, peeking out from distressed denim, and paired with jean shorts. But SJP's sophisticated look is proof that fishnets aren't always synonymous with grunge.
This century-old accessory is a great way to make your LBD winter-ready, like Gwyneth Paltrow did at a watch launch in Nov. 2016. Around the same time, Kate Moss wore fishnets with her feather-print dress to the opening of Hair by Sam McKnight in London and Marion Cotillard also wore them on the red carpet during the premiere of Mal de Pierres.
Maybe it's time to ditch the stigma surrounding fishnets once and for all. This winter, copy the immensely fashionable Sex and the City star and sport a pair of fishnets under your midi dress. Without a doubt, you'll be thankful for the leg warmth on New Year's Eve.
Ahead, The Zoe Report's favorite Sarah Jessica Parker-inspired fishnet tights to shop right now.
Shop Fishnets