The Boho Footwear Trend You Should Bring Back This Spring
Grosescu Alberto Mihai/REX/Shutterstock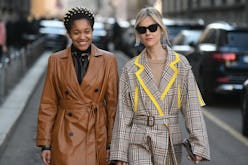 Click, clack, click, clack — that's the sound of everyone's favorite Dutch footwear tradition sauntering back into the spotlight. Yes, clogs. Crafted from wood and traditionally finished with colorful hand-painting, these historic shoes have somehow surpassed the limitations of time and maintained their status as the fashion world's friendliest footwear, a huge feat for an accessory that's been around since the 1300s. It goes without saying that opinions remain divided when it comes to how to wear clogs — they evoke images of windmills and sprawling hillsides but the contemporary interpretation of clogs, as you know, is far more wearable than their 14th-century versions. Leather and suedes are often woven into clog designs now and artisanal finishes like embroidery and unique hardware are added to help give the overall look a modern aesthetic.
With spring around the corner (March 20, mark your calendars) it's an appropriate time to start ideating a shopping list for the new season. And rather than opting for a new pair of sneakers or sandals, consider the clog. The footwear is plenty practical (they're a favorite in the nursing industry), but with brands debuting more sartorially-inclined iterations, expect to see them more and more on the street style circuit in the months to come.
Ahead, a handful of recent looks to get the creative juices flowing and an assortment of classic and cool clogs to add to your wardrobe. Click, clack, and don't look back.
Burnt reds don't always have to signify autumn style, embrace the passionate hue for spring by mixing and matching different tones with a pair of saddle-brown clogs.
Transition to slightly-warmer temperatures with a pair of white jeans styled with your favorite statement jacket and a pair of cute clogs — sans socks, naturally.
If your style is pared down then consider making your uniform as such: cozy knit, flattering denim, and a pair of suede clogs. Repeat. It's polished, simple, and timeless.
The appeal of clogs is their unexpected versatility. Wear them with everything from a white cotton frock, to button-down and trousers, or a pair of classic blue jeans, as stylishly spotted above. Take things up another notch and wear them with a pair of sheer socks to give an extra pop.
Ah, yes, the denim-on-denim look. It's an enduringly chic nod to western style and what better way to polish the ensemble than with a pair of classic clogs below and a printed scarf knotted around the neck?
Embrace the quirkier side of clogs and style them with a pair of the season's most artisanal jeans trend: patchwork denim. Finish it off with a lived-in white tee and you're prime and ready for a weekend jaunt.
Once temperatures are warm enough to bare your ankles (so soon!), do so with a pair of — you guessed it — clogs.
Clogs: Great for picnics and all other whimsical weekend getaway activities that appeal to you. Style yours this spring with a pair of light-wash denim, a breezy blouse, and a basket bag.