The Skirt Trend That's Quietly Blowing Up In This Season's New Arrivals
Mille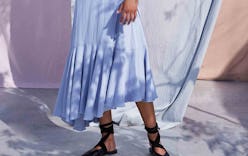 In just over a week, March will be here. In the time that you might be contemplating just how quickly this year is moving, you can also set your sights forward to the sunnier days ahead. Let's be honest: Nothing gets you in the mood for the new season like building up your warm weather wardrobe — even if it's only a daydream at the moment — and the latest arrivals at retailers are laden with new asymmetrical skirts to be the focus as you start planning out your spring outfits.
When you start seeing a silhouette over and over in the new arrivals of multiple retailers, you know you're about to see it everywhere — and this trend is no exception. Blame it on the unexpectedly cool nature of asymmetrical skirts, but there's just something so whimsical about this particular silhouette. Not to mention, they come in an infinite number of iterations, which means that no matter how you define your personal style, you'll be able to find one to effortlessly incorporate into your wardrobe.
Start out with some classic versions of the trend such as the TSE Cashmere Draped Bias Skirt, $895, which you can wear now with your favorite creamy knit sweater, or this Asymmetric Crepe Pleated Skirt by Prada, $1,020, a skirt you can wear with just about anything you own. If you want a skirt you can wear from day to night, the Pencil Skirt from Monse costs $990 and can be worn with a chic blouse or a graphic tee.
Feeling a little bold? Say it with some vibrant colors. British designer Rejina Pyo's Ella Linen Skirt, $645, comes in a buttery yellow shade that will have you ready for spring in no time. You can also start wearing this Tibi Tissue Leather Asymmetric Drape Skirt, $1,195, now with a pair of boots and when the weather gets warmer, your favorite sandals. For your more celebratory occasions, you can't go wrong with this Sequined Asymmetric Skirt by Ashish; it's bound to be a head-turner.
Asymmetrical skirts also make great options for your upcoming vacations. Go with this minimalist-approved Side Knot Skirt from Jacquemus, which was essentially made with beach backdrops in mind. If you're looking for something that feels a touch more formal, Loewe has a beautiful army green Asymmetric Ruffled Poplin and Linen Skirt that you can dress up with a pretty button-up shirt or pare down with a simple tank top.
Are you ready to get yourself in the mindset of warmer days? Scroll down to start shopping this cool skirt trend below.