The Secret To Pulling Off An Editorial-Worthy Lip Stain, Revealed
Courtesy of Khalea Underwood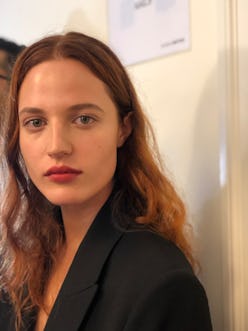 There are some of us who are ferociously dedicated to matte lipsticks, living and dying by tried-and-true formulas that refuse to budge, even after a day's worth of speaking and snacking. There are others who only swear by glosses, swiping and applying until you can spot the shimmer from the heavens above. But if you're undecided, then a lip stain might be your thing. The best way to use a lip stain, however, might depend on who you ask. And with New York Fashion Week Spring/Summer 2020 in full swing, there are plenty of experts to glean that information from — seeing that the trend is everywhere.
At Rag & Bone, simplicity was paramount for the beauty look according to Diane Kendal, key makeup artist for MAC Cosmetics. "It's a celebration of [the brand]," she tells The Zoe Report on Sept. 6. "The casting is very eclectic, a bit chic. It's a very diverse and inclusive mix celebrating everybody's individuality. I'm just making sure everybody looks gorgeous."
For some of the models, Kendal filled in the eyebrows a little bit. A couple also got a tiny bit of eyeliner, while others got a red-stained lip — courtesy of MAC Cosmetics Matte Lip Mousse in My Better Half, a cool red. To note, My Better Half is one of nine new lipsticks from the MAC x Pony Park collection (available Sept. 21, 2019 at Nordstrom and Sept. 23 at MAC) the light-as-air mousse texture is a first for the brand, a spokesperson tells TZR. "It's like a matte stain," Kendal adds. "I take it off a little bit with a tissue so it looks a bit diffused. It's really nice. It goes on and has a cushion to it. Then you can blend it out."
And at the Sept. 7 Kate Spade SS20 presentation, Maybelline New York Global Makeup Artist Erin Parsons took inspiration from the "city safari" theme of the show, aiming for a "soft and smudgy" lip and eye look. "[Kate Spade Creative Director Nicola Glass] wanted this natural, throw-on-your-moisturizer, walk-out-the-door look," Parsons says backstage. "It's a story of warm tones. We've done these gorgeous stained lips with three levels — natural, a peachy warm tone, and nude" — all using SuperStay Matte Ink Liquid Lipstick. Yes, you read that correctly. "Normally [Matte Ink] is that very done lip. It's matte, and it stays on forever," Parsons describes. (And I can attest — I once got through a full plate of post-show tacos without having to touch up after my meal).
However, Parsons' technique showed just how versatile the formula can be. "We take the product, dab it on the hand, and rub it into the lip," she says. "Use your fingertip to follow the shape. When you feel the lip and push it on, it leaves a gorgeous stain." And to prevent the formula from drying or caking up, she used Baby Lips Moisturizing Lip Balm in Quenched to lock everything in.
To clean up the corners of lips, Parsons always has pointed Q-tips from Japan on hand ("I'm really specific about them!" she admits). "Dip [them] in a little micellar water. We clean it quickly because once Matte Ink sets, you're kind of stuck with it," she advises. And once your lip is good to go, you can pretty much forget about it for the day — a benefit that any lip color lover would agree on.