This Bizarre Hack For Picking The Best Red Lip For Your Skin Tone Really Works
Imaxtree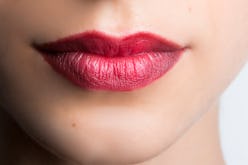 Your lip color is essential for infusing a #mood into any look, whether you're feeling playful or subdued. Red is, and always will be, a staple for a little drama. But a red lip doesn't necessarily have to be limited to lipstick, though: There are dozens drugstore red lip stains for all skin tones that rival their more traditional counterparts.
Lip stains work just as hard as lipsticks when it comes to providing pigment, but they're less work. And who can argue with that concept? Stains can be applied easier, and even though their surfaces seem wet, the color doesn't budge once applied to your lips. They give tint without all of the messy transfer.
When it comes to technique, remember that the application depends on the product. "It gets trickier with the wands and felt pen applicators because they often have much more pigment and messing up gets, well, messy," Brigette Reiss-Andersen, a celebrity makeup artist who includes Michelle Pfeiffer, Taylor Swift, and Emilia Clarke as clients, tells TZR. "It may be wise to line the lips first with a regular pencil in a related shade."
If you're unsure about the color when shopping in stores, don't be afraid to take advantage of those in-store testers. "Swatching colors on your arm is the best way to see the true color and if it works with your skin tone. Also, if it's daytime, try to step outside after you've swatched the colors on your arm. It's best to see it in natural daylight," celebrity makeup artist Allan Avendaño, who works with Chrissy Teigen, Camila Cabello, and Vanessa Hudgens, says.
Ready for a straightforward approach to finding the stain that will stay on your brain? Scroll to see some of the best effortless red stains for every skin tone that you can grab at your favorite local stores.
If You Have Fair Skin...
"Cool-toned reds that have hints of blue or purple can really brighten their skin and teeth," Avendaño says.
If You Have Medium Skin...
"Warm-toned lip stains that are more orange-based compliment medium tones very well," Avendaño says.
If You Have Dark Skin...
"There is really something beautiful about warm tones on darker complexions regardless of their undertone, but people with darker complexions tend to have warm undertones already, so warm compliments warm," Avendaño notes.
If You Have Deep Skin...
"Deep skin tones can pull off both warm and cool-toned reds. The most important thing when looking for a red lip stain for deep skin tones is pigment in your product," Avendaño explains. "Because skin is darker, sometimes the pigment isn't as visible, so a more vibrant or opaque pigment gets more color payoff."