Laura Mercier's Cult-Favorite Tinted Moisturizer Just Got Some *Major* Updates
Laura Mercier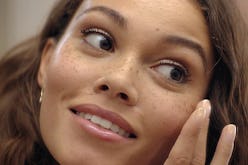 They say if it's not broken why fix it, and more often than not you'd probably be inclined to agree — remember when your local grocery store decided to rearrange the entire produce section and it took you an entire season to readjust? But when it comes to the ever-progressing cosmetics industry, there's always room for improvement. That even goes for best-sellers by some of the most celebrated beauty brands, which is why one cult-loved product just received a major makeover. Laura Mercier's Tinted Moisturizer Natural Skin Perfector Broad Spectrum SPF 30 takes the longtime favorite to a totally new level for effortlessly perfected skin every time, so this is one update you'll welcome with open arms.
As far as popular beauty products go, Laura Mercier's iconic tinted moisturizer definitely qualifies as a cult classic. It's one of those items that even if you don't personally use, you know at least a few people who swear by it because it seriously lives up to the hype. But just because it's a makeup bag staple doesn't mean it couldn't stand to benefit from some cutting-edge upgrades to make it even better than before. Say hello to your skin's new best friend.
The all-new Tinted Moisturizer Natural Skin Perfector Broad Spectrum SPF 30, $47, is now available exclusively at Sephora and at all Laura Mercier retailers beginning Sept. 25. The retooled formula, which the brand is hailing as its most exciting launch of 2019, takes everything beauty buffs love about the natural finish tinted moisturizer and turns it up a notch with skin-loving benefits via buzzed-about ingredients to boost its effectiveness.
You'll notice one of the improvements right off the bat, thanks to the product's slightly tweaked name. The Laura Mercier bestseller now boasts 30 SPF sun protection, thanks to a modernized sunscreen system that allows more skin-shielding goodness to be packed into each tube. On top of that, this updated broad spectrum sunscreen was developed to accommodate a wider range of shades — so you'll now find a full 20 hues to choose from instead of the former 15.
But the brand didn't stop there. In fact, Laura Mercier herself worked closely with her product development team on 67 iterations of the formula to ensure it'd be full of skin-improving goodness and of-the-moment ingredients. It's now got a hydrating complex containing macadamia and kukui seed oils for long lasting, deep hydration so effective it'll keep working after you've removed your makeup, plus tamarind extract to keep skin feeling and looking soft and supple. Vitamins C and E round out the upgraded skincare-meets-makeup mixture to help protect skin from environmental stressors.
Basically, if you didn't already love Laura Mercier's longtime favorite tinted moisturizer, you've now got several more reasons to be obsessed. Nab the newly revamped skin perfecter in its original or illuminating formulas from Sephora below.