How To Let Your Partner Know You're Ready For Marriage
Dia Dipasupil/Getty Images Entertainment/Getty Images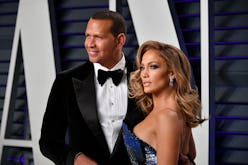 Fact: Marriage isn't for everybody. Some choose to go through life unattached or in a committed relationship sans rings. But there are also those who believe and support the time-honored institution and hope for it at some point in their lives. If the latter is you, at some point, you will probably contemplate how to discuss the topic of marriage in your relationship.
Read more: 8 Signs You're Ready To Get Married, According To Therapists
For some, the idea of this can be stressful and ridden with anxiety, especially if you're not sure where your partner stands on the topic. However, some experts believe that timing can be everything here. "Ideally, these conversations should happen in appropriate increments along the way in your relationship," says Rachel Thomasian, licensed marriage and family therapist. "By six months, you should know whether or not your partner even believes in getting married or is not really wanting that kind of commitment. [...] Definitely if you've been together for two years I think each person deserves to know where the other stands on the issue."
Read more: 10 Signs You've Found The One, According To Relationship Experts
OK, so you've established that your partner is probably on the same page as you when it comes to the future and tying the knot — what now? What do you say and, more importantly, what do you not say? Ahead, see what Thomasian and women who've successfully navigated the conversation of marriage think are the guidelines for executing it properly.
Be Sure
First and foremost, before jumping into any type of commitment or marriage discussion, make sure your heart and intentions are in the right place. "You need to really be confident in knowing that that's who you want to be with," says merchandise manager Amanda Corral, who's been married to her wife for seven years now. "Don't talk about it just because you feel pressure to or like it's the obvious next step. You have to do it when you're ready."
Any uncertainty or unhealthy motives will most likely impact the effectiveness of your conversations about marriage with your partner, even if they're on board with tying the knot. The last thing you want is to start a lifelong commitment on unsteady foundation.
Corral explains her and her wife's faith and certainty in the future of their relationship was established early on. In fact, Corral's wife Elizabeth presented her with a promise ring about a year into dating. "That's when I realized that she was the one," she says. "We knew we wanted to spend the rest of our lives together, and we just always discussed what life would be like when we were married and had kids. A year after that, she actually proposed."
Keep It Natural
For most, marriage is a pretty serious topic. That said, Thomasian suggests making your approach anything but. "It's pretty easy for these topics to come up naturally in playful conversation," she explains. "It's best to start with gentle start up. Find a good time, don't approach it when you're annoyed or angry, you should both be calm and in a happy place."
Los Angeles-based creative and marketing consultant Mia Colona seconds this notion. The newly engaged influencer says her initial discussions about tying the knot with her live-in boyfriend were actually done in jest. "We'd gone through a season where we attended a good number of weddings," she says. "The topic came up kind of as a joke, but it removed a lot of pressure and anxiety from the conversation, which was nice."
Despite moving to Los Angeles from New York to be closer to her now fiancé (and enjoy a change of scenery for her transition into a freelance career), Colona says marriage wasn't exactly an expectation or even something she was completely sold on. But as the couple continued to entertain the idea and enjoy their life as a non-long-distance relationship, she realized saying "I do" was actually a pretty great idea. So, when her boyfriend got down on one knee in November of 2018, the answer was a confident and enthusiastic "yes."
Be Practical
Here's the thing: Marriage is hard work. A lot goes into a successful long-term commitment, so keeping a practical and logical mind when discussing the future is important. "Avoid blaming or shaming, it's not any one person who should have already brought this up," says Thomasian. "You also want to avoid absolutes like 'must,' 'always,' etc. I recommend not going into the conversation trying to change someone's mind, rather know what are negotiable and non-negotiable things for you in a relationship and state your needs and wants as such."
Such was the case for digital marketing manager Tuanh Dinh and her fiancé. "As unromantic as it sounds, I approached our marriage discussions almost like a business," she says. "I knew he was the one and all I wanted in a partner, but I also needed to establish what we both were able to offer the other and understand how we would both benefit from a long-term commitment. The love, the passion, and the lust comes naturally — that's the easy part. The hard part is often the logistics like finances, time, and compromise."
And while being transparent about your needs from your partner is key, Dinh says acknowledging her contributions and changes made on her part were also active components of initial marriage discussions. "If I want a partner to bring A,B,C, and D, then I have to bring all those things as well," says Dinh. "If I wanted a certain life with a children, partner, career, etc., I needed to change my priorities to align with those goals, whether that be scaling back on going out and/or being more responsible with my finances."
Keep An Open Mind
Even if you're 99.9 percent sure your partner is aligned on your future goals, don't assume you're going to get the answers and words you want to hear from a marriage talk. Avoid getting thrown off or frustrated when the discussion doesn't go your way. "Be open to hearing their perspective on the issue and ask questions to learn about their feelings and where they come from," says Thomasian. "As hard as it may be, try to not be defensive if you feel offended, rather share your feelings."