Why Not Choosing Marriage Was The Best Thing That Ever Happened To My Relationship
Jason Merritt / TERM/Getty Images Entertainment/Getty Images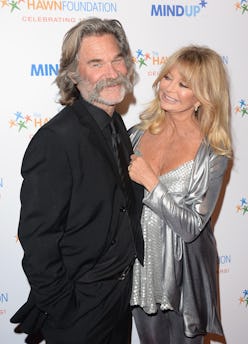 The proverbial fairytale wedding is something many girls dream about, but once adulthood arrives (along with a big dose of reality), not everyone jumps aboard the marriage train. The lifelong commitment just doesn't suit every lifestyle, and there are plenty of women who are single and happy, as well as those who are perfectly content with commitment sans marriage.
Read more: 8 Signs You're Ready To Get Married, According To Therapists
Speaking of the latter, it seems like more and more couples are opting to stay together without the vow-exchanging formalities. Rachel Lustig, a therapist at NYC Cognitive Therapy, a private practice in Manhattan, gives insight as to why some couples choose the non-traditional route. "Some people feel that marriage is a label and that they can be just as committed to each other without that label," she says. "Others might have concerns that marriage will somehow change things and that they don't want to mess with what is already a strong and committed relationship. Ultimately, marriage is a very personal choice and something that couples should talk about at length before making a decision either way."
Read more: 10 Signs You've Found The One, According To Relationship Experts
As it turns out, commitment without marriage is not just doable, it can be totally rewarding. Ahead, two women share why their long-term relationships are prospering outside the marital confines. Although getting hitched isn't completely off the table, both say there are benefits to building a life together, sans rings.
You Can Allow Your Relationship To Grow Organically
Unfortunately, many feel the pressure to accomplish certain milestones by a certain age, from being in their dream career, to having kids, to becoming a "Mrs." But when you shift your focus from making marriage the end goal, you allow your relationship to grow organically.
Natasha, a retail manager from Maine, says her relationship with her boyfriend Chris is thriving because they weren't on the marriage fast track. In fact, they started as friends, and got to know each other before they even started dating. "We have been together for six years, friends for 10 years," Natasha recounts. "Our relationship has been built on pure friendship, as we already knew a great deal about each other [before becoming a couple] — our values, goals, trust etc. — even down to our bad habits." And thanks to their no-pressure beginnings, Natasha says they're still "outdoor-loving, adventure-seeking best friends."
You Can Commit Without Pressure & Prioritize Your Finances
Let's face it: Weddings are expensive. The sheer stress of planning out nuptials is enough to put the event on pause — or avoid it, altogether.
Nora, a singer from Montana, is in no rush to tie the knot with her longtime partner, William. Although they've been together for a decade and have a child, getting hitched simply isn't their priority. "We didn't even consider [getting married] until a couple years ago," Nora explains. "When we discuss the pros and cons, they're all pragmatic. Right now, the costs outweigh the benefits. If that shifted, then we would get married."
And while Natasha says that marriage is still in the cards for her and Chris, living as a committed couple has enabled them to start building a foundation for when the time comes. "We know that one day we will get married, but have made the decision to put our focus on careers and purchasing a house first," she says. "We feel as though we would rather spend our savings on building a home together, on our hobbies and making memories, rather than a wedding right now."
You Can Dictate The Rules Of Your Relationship (Without Being Legally Bound)
Every relationship has its ups and downs, and periods when you grow closer and drift apart. However, when you're unmarried, you're more likely to follow your heart and dictate your own rules, rather than base them on legal implications and the potential for divorce.
"Several years ago, [William and I] had a voluntary separation," Nora recalls. "Ultimately we reunited, but if we'd had to legally divvy assets and make court appearances, it would have forced us to interact when we didn't want to, and we might have just stayed apart." But now, she and her S.O. are so content with their life, nothing will nudge them down the aisle — not even the promise of a special heirloom. "There is family lore that my dad will give a Rolex to the man who remains married to one of his daughters for 10 years," she says. "I'm told it's a very nice watch, and valuable too. We'd be a shoo-in for the watch if we married, but I'm not sure what we would do with it. [It] doesn't reflect what we value."
Natasha adds that starting a life together without the pressure of making a lifelong commitment can be beneficial for couples, whether or not they eventually take the leap. "I believe not having the pressure of getting married and having a big wedding has helped [Chris and me]," she says. "We've just been able to focus on us as a couple and making a life together. Once we do get married, I know that things won't change for us as a couple — besides having to do taxes differently!"