'70s Suits Are Just As Wearable Now As They Were Back Then
Ray Brigden/Associated Newspapers/Shutterstock and @maria_bernad On Instagram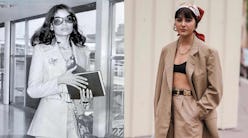 The first time I wore a suit I was 17 years old headed to a five-day retreat to prep myself for university. Unsurprisingly, the component I was most concerned about was what to wear. I determined I needed a suit. Once at the event, I slipped into my matching blazer and slacks and instantly felt like I meant business, even if it was a vintage find and not one from a bespoke tailor. This emotional connection is what makes a trend worth investing in and, unsurprisingly, the suit is a justifiable purchase. How to style a suit today is in fact, uniquely similar to the '70s, another era when the style was gaining steam anew. It was a period when women were emboldened to take charge of their bodies and wardrobes and wear whatever they felt most powerful in; many times this manifested as a pantsuit.
It's fair to say women of the present are feeling similar sentiments, and striving for new ways to harness fashion to help express their perspective in fields beyond. In turn, this makes it an apt time to reflect on iconic figures of the 1970s and how they chose to wear their favorite suits. Continue ahead to toggle back and forth between then and now to see how the likes of Bianca Jagger and modern-day street style muses approach the suit trend. Whether your next blazer and trouser combo is scoured from a vintage basement, or straight from a department store, you'll know exactly how to sport the two-piece set.
Then
It would be near sacrilegious to make mention of suits in the '70s without paying homage to Bianca Jagger. The style icon cemented herself as the queen of tailored separates throughout the decade — she even wed Mick Jagger in a matching white blazer and skirt.
Now
Modernize a neutral suit with of-the-moment accessories like futuristic sunglasses, a belt bag, and strappy sandals.
Then
Diana Ross's white suit worn in 1978 is a look de fête well worth repeating. The combination of the plunging neckline and leather cord choker give it after-hours appeal and the smooth satin texture is oh-so alluring.
Now
For the modern shirt-free styling, try for a quirky suit with a pair of contrasting shoes to finish the look.
Then
Anjelica Huston walking the Halston runway in 1972 is bound to inspire your sleek, neutral suiting inspo for fall 2019. Follow her lead and tie on a silk neckchief for a personalized finish.
Temperature permitting, layer an opaque bralette or sports bra under your beige suit jacket for a streetwear-inspired take on the trend. A silk scarf, chunky chain necklace, and square-toe boots are all great accompaniments.
Then
Yoko Ono's artistic sensibilities permeate her personal style in inspired ways, including this sleek all-white airport look alongside John Lennon. Her addition of a floppy hat and white boots in white add to the impact of this monochrome outfit.
Now
Just because autumn is on the horizon doesn't mean you have to quell your desire to wear bright colors. Simply rotate in noir accessories —like a black structured bag and strappy sandals or black boots — to translate the palette to cooler temperatures.
Then
This street style snap of Jackie O in the '70s feels plucked straight from Alessandro Michele's Gucci runway collections of today. Recreate the aesthetic by knotting a sash around the collar of your button-down shirt.
Now
To embrace classic, sleek suiting, try opting for a timeless plaid or pinstripe style. The addition of a belt or statement boots takes it out of ordinary territory.
Then
As if you needed another reason to channel David Bowie's imitable Ziggy Stardust style, this patterned suit situation is unearthed. The bold pattern may be a bit much for a modern audience, but there are fresh options to consider, to be sure.
Now
A windowpane-print suit styled with bright red heels is an inspired combination that takes little time to put together. If a crazy print isn't for you, try bright colors for your statement suiting instead.
Then
The Oprah Winfrey velvet suit throwback you never knew you were missing out on. A rich texture in a classic cut is what carries the look into today.
Now
An animal-print suit may seem daunting but when teamed with a laidback graphic tee it can look very with-the-band. Keep the silhouette simple and you're good to go.