The '70s Fashion Icons That Completely Defined NYC Style
Fairchild Archive/Penske Media/Shutterstock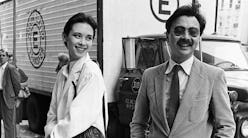 New York City in the '70s was a very different place than it is now. For one thing, it was certainly grittier — SoHo, Bowery, and most of Brooklyn looked entirely different. On the other hand, there was an eruption of cultural changes that in many ways defined the neighborhoods as you think of them today. (What would the east village be without Patti Smith or CBGB?) It was a hub for music, art, politics, and fashion all at once. The 1970s fashion icons of NYC were especially intriguing because of the sheer range of styles these women embodied. Some of them were transplants, others born-and-bred New Yorkers, but all of these women collectively possessed a flair for the unique and the statement-making that still resonates today.
On one end of the spectrum, you had the punk and underground art side of the city. Their subversive dress was just as bold as their taste in music. On the other, you'd find socialites and actors with a more glamorous sense of fashion. It was a fascinating juxtaposition that somehow seamlessly came together to create the mold of what New York City came to be all about.
If you find yourself feeling nostalgic for the Studio 54 era, the best way to channel the decade is by turning to the icons whose taste resonates with your own. Ahead, see which of these women you'll be nodding toward in the months to come and shop your favorite pieces to stock your closets with '70s-inspired pizazz.
Bianca Jagger
This Studio 54 regular perfected disco-era style with her one-shoulder dresses and extravagant accessorizing. She was known for dancing the night away in fitted silhouettes, sparkles, and a hat, scarf, or choker.
Diana Vreeland
The legendary editor in chief of Vogue was known for her exacting taste and her work to establish The Costume Institute's Met Gala. Above, Vreeland was en route to a Halston runway show, dressed in a simple yet chic ensemble: a belted shirtdress with a knit draped across her shoulders and buckle-embellished flats.
Jackie O
The former first lady helped to define the preppy-meets-bohemian look of jet-setters of the era. But, there isn't enough time to talk about the many iconic ensembles Jackie O sported in the '70s, so this chic trench look will suffice for now.
Tina Chow
Model and jewelry designer Chow's penchant for masculine-inspired dressing is the perfect example of how to take a traditional piece like a blazer or slacks and translate it to your own personal taste.
Patti Smith
The reigning punk queen of New York could make even an oversize tee and baggy pants look iconic (and still does). She championed a simple, unpolished style, often mixing and matching mens and womenswear.
Yoko Ono
The artist's voluminous hair became an emblematic part of her look, which in the '70s was marked by staples like boxy blazers and flares — along with signature oversized sunglasses, a must of the time.
Anjelica Huston
Huston's almost-regal sense of style during the seventies is best tackled with something like a ruffled blouse or pearl-encrusted necklace. The red carpet darling was often spotted in a statement-making gowns, and was never without a cute statement bag.
Diane Von Furstenberg
You can't bring up 1970s New York without mentioning Diane Von Furstenberg — the wrap dress, folks! As both a designer and a style icon in her own right, DVF established herself as a tour de force in the fashion industry.
Gloria Vanderbilt
This beloved socialite punctuated '70s New York style with her crafty and creative ensembles. As a designer, and the originator of the designer jean fad, Vanderbilt helped to shape the era.
Barbra Streisand
This native New Yorker is one of the few individuals who has been considered a fashion icon for so long (more than 50 years, arguably). Channel her eccentric '70s style with a splashy print or unexpected accessory, like a headscarf.