The Celebrity-Approved Ways To Style A Pixie Cut You Haven't Thought Of Yet
Amy Sussman/Getty Images Entertainment/Getty Images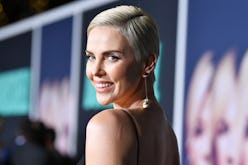 Undergoing any dramatic hair change is innately scary, but there's something flat out terrifying about a pixie crop, specifically. Reducing your lengths to three-or-less inches means saying goodbye to your faithful topknot, bidding farewell to your fallback high pony ~and~ your trusty bedtime braid. Sift through the near-bottomless reserve of celebrity inspiration, though, and you may be surprised to find that there are infinite ways to style a pixie cut.
Firstly, there's the cut itself: You could go shaggy and feathery like Princess Diana in the '80s or short and tidy like Mia Farrow circa Rosemary's Baby. You could swipe your long, sweeping bangs to the side like a '60s-era Twiggy or incorporate a layer of baby fringe à la Audrey Hepburn. You can wear it straight or curly, slicked back or spiked up. A pixie can be elegantly polished or edgy and rough.
In 2020, there are even more options for styling a pixie thanks to the bounty of accessories resurfacing from bygone generations. And as it turns out, headbands, clips, and scarves make great stand-ins for a messy bun.
Six thoughts on how to style a pixie cut courtesy of Zoë Kravitz, Charlize Theron, Cara Delevingne, and more, ahead.