This Is The Most Common Relationship Obstacle According To Therapists
Christian Vierig/Getty Images Entertainment/Getty Images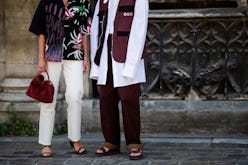 Relationships come with their fair share of challenges, and while some are small, even petty, others are substantial enough to break what you've built together. But even if you're facing what feels like an insurmountable hurdle, it's still possible to overcome relationship obstacles and become stronger than ever, according to love experts and couples who've done it, themselves. Yes, that includes the big ones: infidelity, financial hardship, long-distance, and an unequal balance in the partnership are all issues you can move past, if both people are willing to put the work in.
Read more: 10 Signs You've Found The One, According To Relationship Experts
Read more: How To Have The "Define The Relationship" Talk, According To Relationship Experts
So, if you and your S.O. have come to a relationship roadblock, stay tuned. Ahead, therapists share the biggest challenges they've helped clients overcome while giving their tips on how you can do it, too. From rebuilding trust, to equalizing your responsibilities, to dealing with distance, to getting on the same page about finances, to improving physical intimacy, you'll read advice from the pros as well as two women who've been there, themselves. And, in addition to overcoming these obstacles, you may even come out on the other side stronger than ever before.
Read more: Signs Of Emotional Deprivation In Relationships, According To A Therapist Who Specializes In It
No relationship is perfect, but if you and your partner are unsure how to move forward, don't give up just yet; read this first.
Infidelity
Perhaps one of the most challenging obstacles to grapple with is infidelity, whether physical or emotional. "An affair can include any kind of relationship with someone other than the partner that the partner perceives as a threat to the primary relationship,"clarifies Noah Clyman, LCSW-R, ACT, and clinical director of NYC Cognitive Therapy. According to statistics, he says about 20 percent of men and 15 percent of women cheat, while infidelity causes about 17 percent of divorces in the U.S. (although, "it's tough to get a handle on how many people are having affairs, given the inherent secrecy," he warns).
In any case, Clyman assures that with professional help, relationships can survive if both parties are willing to put in the work. The first step is to uncover the underlying emotional cause of the indiscretion. "Affairs are caused by a cascade of events that begin with eroding trust," he explains. "There is a gradual process of investing less and less in the relationship, and looking for another person to make up for what is allegedly missing in the relationship."
When it comes to moving forward, Clyman points out that couples should focus less on mending their previous relationship and more on building a new one. For those who are married, "I tell couples, 'Marriage Number One has suffered from the affair and may in fact be gone now. But the therapy will help the couple to build Marriage Number Two, a marriage that can be much stronger and more satisfying for each of them than Marriage Number One.'"
He also treats clients with a step-by-step process which includes confronting the affair with complete transparency, learning and implementing conflict management skills, and re-committing to each other, emotionally and through physical intimacy. "Studies have shown that couples who talk about their sex life have more satisfying intimacy over time," he points out. "Couples also discuss specific rituals of connection to integrate regularly into the relationship, [which] may be big, like how to celebrate birthdays, anniversaries, or major holidays, or smaller, like how partners say goodbye every morning before work, and reunite at the end of their day. [These] sustain friendship, closeness, and emotional intimacy."
Author and life coach Stacey Greene and her husband are proof that there's hope following an affair. "We had been married for 25 years and had recently renewed our vows," she recalls. "Just one short month later, he met a woman in a bar and had a five or six-month relationship with her before I found those horrible texts one evening." She admits that, in retrospect, their sex life was good but their emotional intimacy was lacking. The two spent a year re-building trust and connection, and nine years later, Greene says they're closer than ever — she's even written a book about it.
Unequal Partnership
Trouble can arise when one partner feels like they're all in while the other's efforts are lackluster. "I see this issue most often in how couples share housework and home maintenance needs," explains Toni Coleman, LCSW, CMC, a psychotherapist, relationship coach, and divorce mediator. She describes a "typical scenario" in which a division of responsibilities is discussed, but only one person follows through, then picks up the slack. "Over time, this enabling leads to resentment and the loss of goodwill between the couple."
For issues like this, the therapist says her approach is "old school" and holding each other accountable is key. "I recommend rotating chore charts; scheduling in time for chores, bill paying, and discussions about finances and joint responsibilities; and tools that offer reminders and assists to help ensure follow through," she says.
Just remember: The point isn't to initiate a tit-for-tat exchange. "This is about cooperation, caring about the feelings and needs of their partner, and seeking a win-win, because it's never a win unless both people win," she concludes.
Financial Hardships
Another example of unequal partnership has to do with — you guessed it — money. "A second and common scenario is when one partner handles all the bill paying, tries to work within a budget, does more saving, and does not run up and carry credit card charges," says Coleman. Trouble can also arise when an event like an onslaught of medical bills, job loss, or irresponsibility threatens financial security.
In either case, the root issue is the dynamic it creates. "An example would be when one partner is solely responsible for keeping an eye on the bottom line," she says. Further, discussions with the "spender" in the relationship are usually futile and often end in arguments. "This leaves one partner carrying all the weight of worrying about and planning for the family's financial needs and goals."
Although it can get uncomfortable, being open with your partner about money is the best way to get on the same page. "I recommend that couples sit down together and list all their income, assets, monthly expenses, and rent, mortgage, credit card, other debt," she says. "The key is that their finances are held as joint, they have no financial secrets they keep from the other, no large purchases are made without discussion and agreement, and one person is not responsible for the family's financial maintenance, planning, and well-being." This also fosters trust and encourages you to work toward the same goals.
Long-Distance
"I don't see this that often in my practice or when I do, it's early relationships that don't last much longer," admits Jennifer Gunsaullus, PhD, a sociologist, intimacy speaker, and author. "However, I have worked with some folks in ongoing long-distance relationships who are struggling to figure out if one of them should move [near] the other, or whether they should cut their losses and move on. The biggest issue is when one or both want to have kids and create a family, and clearly they can't do that (well) with the distance."
For those who decide to forge forward, she suggests doing a test run by living in the same city together before making any serious decisions. "It's important to know your values and what matters most in a relationship to you personally, and to make sure that you're both getting your biggest needs met despite the distance," she says.
However, "If the distance is slowly eating away at your emotional wellbeing, I think it can be helpful to put a timeline on changes. For example, if in one year the situation is exactly the same and it doesn't look like you'll be in the same city together anytime soon, then consider amicably breaking up, licking your wounds, and moving on."
Megan Bearce, LMFT, therapist, speaker, and author, has sustained a long-distance relationship with her husband for nearly a decade. "In November of 2010, my husband was offered his dream job in New York," she says. "The only problem was we had just moved from LA to Minneapolis and bought a house only a few months prior. The best option we had was for him to take the job and fly to NY every Monday, returning Friday. In a few weeks, we will mark the nine-year anniversary of our lifestyle that while unique, it's becoming more common across the US and around the world." Her three biggest tips? Maintaining communication; "building a village" around you for when you need help; and figuring out the best ways to spend the time you do have together.