The Genius Hack That Will Keep Your Desk Clutter-Free
Africa Studio/Shutterstock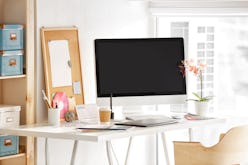 Maybe it's the popularity of Marie Kondo's Netflix show or maybe it's the fact that spring is around the corner, but recently it seems like everyone is looking to tidy things up. As many people are becoming aware of our culture's tendency to hold onto stuff (a.k.a. clutter) as a sign of worth, simplification and organization is decidedly on the rise — and a great place to start the process of getting your life in order by way of a more clean and serene space is learning how to declutter your desk.
There tend to be a few different areas of your home that are especially notorious for collecting junk, and desks are definitely on the list, thanks to drawers where it's easy to stash stuff away as well as the fact that they tend to be hubs for excess papers, pens, and the various items you might need to tackle work and projects. Essentially, they're clutter magnets. But thankfully, there are a ton of great storage solutions for your desk if you know where to look — and one of the best resources is everyone's favorite affordable housewares retailer, IKEA.
IKEA always seems to have the covert products that help you get places like your closet or kitchen in order (plus the brand offers a ton of other miscellaneous organizing essentials), so why should your desk be any different? In fact, according to Janice Simonsen, Design Spokesperson at IKEA, some of the ways to declutter your desk are unbelievably simple, and a few finds from the store can help. Ahead find a few of her best hacks to create the fully functional, junk-free desk of your dreams.
Out Of Sight, Out Of Mind
While some things at your desk should be readily available, others — the ones you use less frequently — can be kept away, and for those odds and ends a non-see-through box, bin, or cabinet could be of use. "Use closed, opaque storage to hide items that are not used every day. It will create a more streamlines look," Simonsen suggests. For example, IKEA's sleek SVALNÄS can be mounted above your desk to keep anything neatly stashed away and out of sight.
Keep It Separated
Doing a good purge first is ideal, but for the items you do need to keep in your drawers, there's a simple solution to keep them from turning into no man's land. "Reduce drawer jumble in desk drawers by using a compartmented insert to group like items in one spot," advises Simonsen.
Wrangle Your Wires
"Cables and wires everywhere can create a messy visual on your desk," notes Simonsen. "Use cable organizers to keep them in check." IKEA's FIXA set has everything you need to keep your cables and wires looking as neat and tidy as possible.
Round 'Em Up
"Corral little desktop items like pens and staple removers in an attractive, all in one desktop organizers," Simonsen explains. This keeps your essentials from cluttering up your desk, and gives your desk a little stylish flair — especially when it's got a cute pattern and color, like IKEA's TJENA.
Make It Minimal
If you want to avoid overstimulation, sticking to one color can help you achieve a more clean, minimal appearance, according to Simonsen. "Keep the colors for items like file folders, wall racks and storage boxes consistent for a more pulled-together look," she explains.
Save Trees (And Space)
One of Simonsen's best tips is one that doesn't require you to spend a single cent. "Go digital whenever possible to avoid paper clutter," she suggests. Not only will that help you from accumulating more stuff, but it will also dramatically save on paper waste.