The 5 Shoes Every Woman Should Own, According To Olivia Palermo
Roy Rochlin/Getty Images Entertainment/Getty Images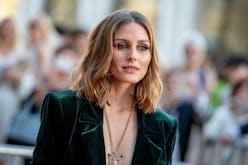 Whether you've stayed loyal to a few select pairs over the years or you barely have enough storage space to fit your entire collection, your shoe closet is sacred. Shoes act as the finishing touch to every outfit, with the capability to completely transform your entire look. In search of thoughtful advice about how to create a capsule shoe wardrobe? Look no further than Olivia Palermo, a modern day fashion inspiration, influencer, and shoe extraordinaire.
Palermo is a businesswoman and entrepreneur who's slowly but surely made a name for herself in the world of style. She's graced the covers of major publications like Cosmopolitan, InStyle, and Marie Claire, collaborated with shoe brands like Stuart Weitzman and Aquazzura, all while continuously managing to score front row seats to some of the most exclusive fashion shows and events in the world.
Palermo's an unapologetic trendsetter, constantly trying new things while paying homage to classic and retro styles. When it comes to her footwear choice, not a detail goes unthought of.
Modeling your personal shoe closet after that of a fashion professional like Palermo may seem impossible, but her shoe style can be achieved with attention to a few simple wardrobe staples. Ahead, the Palermo-inspired shoes to keep you looking contemporary and polished, no matter your outfit.
Patent Leather Boots
Palermo has proven that patent leather boots are a style staple in any closet. This versatile piece is edgy, comfortable, and easy to wear over and over again. Create a high-low combination by wearing black patent boots with a feminine dress and a structured coat, or keep it casual in checkered pants, a white t-shirt, and a denim jacket.
White Sneakers
White sneakers go with just about everything. Maybe you're looking to dress down a trendy pantsuit, or setting out for a day spent on your feet, a pair of white sneakers will do your outfit justice. Palermo demonstrates that sometimes less really is more with her clean-cut pair of tennis shoes.
Sleek Loafers
Palermo knows that adding a pair of loafers to an ensemble gives off a certain professional edge, whether you're off to the office, a dinner party, or even running errands. Although black loafers may seem like a narrow category at first glance, there are plenty of opportunities to add distinct details like a wooden heel, gold hardware, or even a bow.
Heeled Boots
There's officially no need to banish all of your summer clothes to the back of your closet this season. As made evident by Palermo, thigh-high heeled boots are the ultimate companion for a mini skirt on a cold day. This bold outfit addition makes a statement, and it won't outshine your clothing choice. Make like Palermo and pair your heeled boots with a short dress, an oversized bomber, and aviator sunglasses.
Statement Slides
Add some buzz-worthy excitement to your look with a pair of statement slides. As seen on Palermo, wearing a colorfully embroidered slide with a pale-toned outfit is a no-brainer. Plus, playful slides are a great way to liven up an over-worn piece of clothing like a trusted slip-dress, a turtleneck sweater, or a pair of straight-leg jeans.