Olivia Palermo Proves Print-Mixing Is Still Cool In The Perfect Plaid-And-Floral Combo
Beretta/Sims/Shutterstock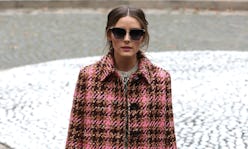 For some of us, wearing print feels like a task. That's what makes Olivia Palermo's clashing coat and skirt so impressive — the influencer combined three major prints in the coolest look that'll have you pairing leopard with neon floral in no time. Palermo's unique outfit proves that combining prints is no longer a faux pas — and there's a good chance you'll be tempted to try it out yourself.
Palermo turned up to the Miu Miu show at Paris Fashion Week on Tue. in a neon midi skirt (which, fittingly, is designed by Miu Miu). The edgy, silk-blend pencil skirt is a fabulous, slime green with an all-over black-and-white floral print dotted with paint splashes. The skirt was bold enough on its own, but Palermo — by no surprise — raised the bar by pairing it with several other flashy prints.
Palermo wore the vibrant skirt with a leopard-print, crew-neck sweater and she topped off the incongruent ensemble with a warm pink-and-brown plaid coat. The look was finished off with a pair of white loafers topped with oversized, black bows. Yes, that's three polar-opposite patterns and palettes she's working with in one outfit. Who knew pairing plaid, leopard, and neon floral could look so good?
The trendsetter and lifestyle website founder has a history of pushing the limits when it comes to fashion. Palermo constantly steps out in unexpected combos that suddenly spark the seasons' trends. On Mon., she wore a jacket that was loaded with pink feathers, sequins and big black bows to the Giambattista Valli show.
It seems Palermo prefers to match every garment or not match at all, because lately she's been wearing a ton of monochrome. Since she's been at Paris Fashion Week, she's sported matching dress-and-trouser separates, an all-tangerine turtleneck and skirt combo and several all-black outfits, as well. She's an organized rule-breaker: she takes trends and gives them an edgy twist.
Get Olivia's Look
Lately, matching and mismatching prints have been equally on-trend. Vivienne Westwood, 3.1 Phillip Lim and Anna Sui all took the anti-coordination trend to the runway during Fall/Winter 2018 New York Fashion Week when they encouraged ultra-clashing prints, colors, and fits. Now, Palermo's outfit is proof that nearly anything goes.
Don't be afraid to wear your boldest hues and patterns together, even if they don't "go." While head-to-toe clashing prints can be intimidating, a patterned coat is less of a permanent fixture in an outfit (read: it's not a commitment). A bold skirt is toned down under a clashing coat — just think of the coat's print as primary and the skirt's as secondary. This way, there's a balance of color and pattern rather than two bold pieces that look like they're battling for attention.
Ahead, The Zoe Report's favorite printed coats and skirts to pair for the ultimate Palermo-inspired look.
Shop The Look