Why False Lashes Are Having Such A Moment Now — & How To Pick The Best Ones
Imaxtree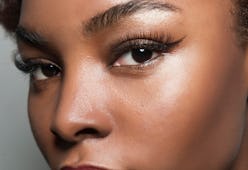 There are some moments where even the best trifecta of curling, thickening, and lengthening mascaras can't do the job. Maybe they run too easily, or perhaps the clump within hours. It's likely the reason why falsies are all over the market in so many variations — and not just reserved for special events or Halloween costumes. But before you grab your glue, figuring out how to choose the best false eyelashes for your eye shape and preference is optimal.
"People used to think of fake lashes as so over-the-top and not really something to consider for every day," Huda Kattan, founder of Huda Beauty, tells TZR. "But with all of the different options now, brands are offering more natural lashes that are really changing the game. The new everyday lashes give everyone the opportunity to rock an effortless, natural lash look — and who doesn't want that?"
When considering lash type, take a good look in the mirror before you pick. "If you have large round eyes, wispy lashes with more drama towards the outside wing will create a seductive cat-eye shape," Kattan explains. "Look for curled options to keep the eye from looking flat," Kattan explains. For almond shapes, you can get away with almost any lash you like, she says. "Voluminous lashes that are evenly distributed all the way along the band will show off the sexy shape of your eyes." To create an illusion of depth for hooded eyes, opt for a pair that is slightly longer in the center, Kattan suggests. "If you have a monolid shape, which means no crease on your eyelid can be seen, opt for a fluttery lash with crisscross layers that open up the eye."
But if you're still unsure which type of false lash you should choose, below see four different types to help make your decision. After all, you've got plenty of time to choose: "I personally think the popularity will continue, since falsies aren't just for super dramatic events," Kattan confirms.
Magnetic False Lashes
Sticky lash glue isn't for everyone, so consider magnetic lashes if you're seeking a cleaner option. "Magnetic lashes typically have upper and lower pieces which are magnetically attracted to each hugging the natural lash in between," Kattan says. "They're a little pricey, but when you consider that they're reusable (provided you clean them), then they could be a really worthwhile investment."
The newest type of magnetic lash features a liquid eyeliner with iron oxide, which gives it the magnetic power. "Iron oxide is a naturally-occurring mineral that has already been in use in the cosmetic industry," Dr. Rachel Nazarian, MD, FAAD, of Schweiger Dermatology Group in New York City tells TZR. "But when used in increasingly higher doses, it can offer a 'magnetic' adherence force that locks the fake lashes, often around your own natural hair and doesn't require actual adhesive on the skin."
Strip False Lashes
To apply your lash strips, celebrity makeup artist Gita Bass, who works with Elizabeth Olsen and Emmy Rossum, recommends measuring the falsies against your lashes and trim if needed. After you get your desired fit, curl the lash prior to applying to help your natural lashes blend with the false ones. Once you apply the lash glue, wait 30 seconds to allow it to become tacky. This prevents the lashes from sliding off, and saves you from them falling off in mid-conversation. Lastly, take a soft cuticle stick and gently press down the falsies to your lash line. Her go-to pair are Are Those Real? from Velour lashes. "They add a lot of glamour without being too Ru Paul Drag Race," Bass notes.
The downside of lash glue is it can sometimes cause irritation to sensitive eyes, so Dr. Nazarian recommends testing on a small part of your wrist for a few hours to see if there's any tinging or itching. "Look for brands that don't contain additives like perfumes or fragrances, such as Beauty Garde Lash Adhesive, which is formaldehyde and latex-free, or Xtreme Lashes Flexfusion Adhesive, which is hypoallergenic and contains chemicals less irritating to sensitive skin," she adds.
Individual False Lashes
Unlike traditional strips, individual lashes give you the freedom to customize your look with as many lashes as you desire. To start, Bass suggests curling the lash and applying a coat of mascara. After, apply a small amount of glue to the base of the lash and using a tweezer, gently drop the false lash onto the base of the lash line as close to the edge of the lid as possible — not on. To ensure a seamless finish, adjust the falsie with your fingers so it lays flat against your natural lashes. And depending on the look you're going for, you can apply two or three lashes, or even several layers for a more glam eye. Once the false lashes and dry, finish off with black liner to aid in making the falsies unnoticeable.
For those who want a more natural, everyday look, Bass recommends Ardell's Knot Free Individuals in short and either or medium. On the other hand, if you want an ultra-glam eye, you can easily build up to get your preferred finish. "I also love building drama with cluster lashes like KISS Ever Ez Trio lashes in Short and Medium, and then adding a few individuals over the top," she says. "This gives you the power to create your own custom shape."
Lash Extension Kit
If you love lash extensions but aren't fond of the hourlong commitment they require, there's a brand bringing the luxe procedure to your home: Lashify, a DIY lash extension kit. "They're super easy to apply and sit underneath your lashes so there's no visible band," Bass tells TZR. "The best part is that you can customize your own look, depending on your mood, from completely natural to full glam." For a natural eye, her favorite picks in the system are A.10, A.12, and A.14.